Environmentally Friendly Recovery of Process Wastewater from the Paper Industry
Paper manufacturing uses enormous quantities of water. Processing primary fibers, such as wood or pulp, into new paper and recycling used paper both require large amounts of water.

With both processses, the pulp must be put into a suspension with water in order for the paper to obtain an even structure. Consequently, enormous volumes of wastewater are produced. As a result, a decanter is essential for recovering and processing wastewater. The centrifuge
Reduces costs
Minimizes the release of hazardous substances
Contributes to environmental protection
Recycling used paper with Decanter centrifuges
Generally speaking, less water is needed when recycling paper than when manufacturing new paper. Nevertheless, a considerable amount of waste water is produced during the process.

The main problem when recycling paper is removing the printing ink from the waste paper (de-inking). De-inking introduces special residues into the wastewater, which the decanter removes during its process. As a result, decanter centrifuges play a key role in recycling waste paper.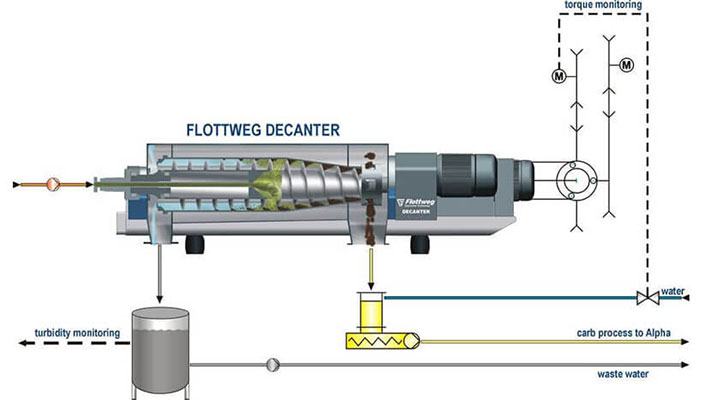 Cost reduction by recycling pigments
Of all production processes, manufacturing paper is one of the most water-use intensive. Depending on the paper quality desired, it is necessary to add additional chemical substances, such as whitening agents, dyes and pigments to the water. In order to reuse these chemicals and pigments, manufacturers extract them from the process wastewater. This saves the paper industry significant costs. The decanter centrifuge is a cost-effective tool for pigment recycling.
Environmentally friendly dewatering of primary and surplus sludge
To reduce environmental pollution, many pulp mills have biological sewage treatment plants. Flottweg centrifuges handle the task of dewatering the sludge waste produced by biological sewage treatment.
The advantages of dewatering primary and surplus sludge are that the reduced sludge volume is less costly to transport, and the increased energy yield from the downstream energetic recycling.
Outstanding Results with the Flottweg Decanter Centrifuge
Decanters from Flottweg help the paper industry to reach their goals.
Saving storage and disposal costs due to High total dry solids content saves on storage and disposal costs.
Minimizes of the use of fresh water
Recovers expensive pigments for reuse
Contributes to environmental protection
A Flottweg Decanter centrifuge is the best solution for your processing needs
Whether recycling used paper and pigments or reducing sludge, the Flottweg Decanter is the optimal solution at every step in the process of reusing waste water.
Have questions about processing wastewater with decanter centrifuges? Want to learn more about our environmentally friendly solutions for the paper industry? Contact us now!
Similar fields of application

Do you have any questions about applications?
Would you like to know more?
Talk to us or write us!