Dewatering of Paint Sludge
What is Paint Sludge?
Paint sludge results from the industrial spray painting of workpieces in painting systems. Some of the paint escapes into the surrounding air in the form of a mist. The excess paint mist is called "overspray". To remove the overspray from the booth after painting, the air is usually displaced with water. The resulting paint sludge is then removed from the paint booth using suction systems.
Significant costs are incurred during the disposal of this paint sludge. In addition to the costs of disposal, the associated effects on the environment are playing an increasingly significant role.
We can help, with our innovative Flottweg Decanter Technology.
Paint Sludge Dewatering and Process Water Recycling with Flottweg Decanters
Our centrifuges dewater the incoming sludge to reduce sludge volume to as little as 10 percent of its original volume. This reduces the quantity of solids for disposal, significantly reducing operating costs.
For optimum dewatering performance, coagulants help to concentrate the paint particles. In contrast with conventional centrifuges, our Flottweg Decanters require only a fraction of the amount of flocculant for the same solid discharge.
The process water used to clean the booths is reconditioned by our decanters. The treated process water can be reused for the production process! This also saves a significant amount of fresh water.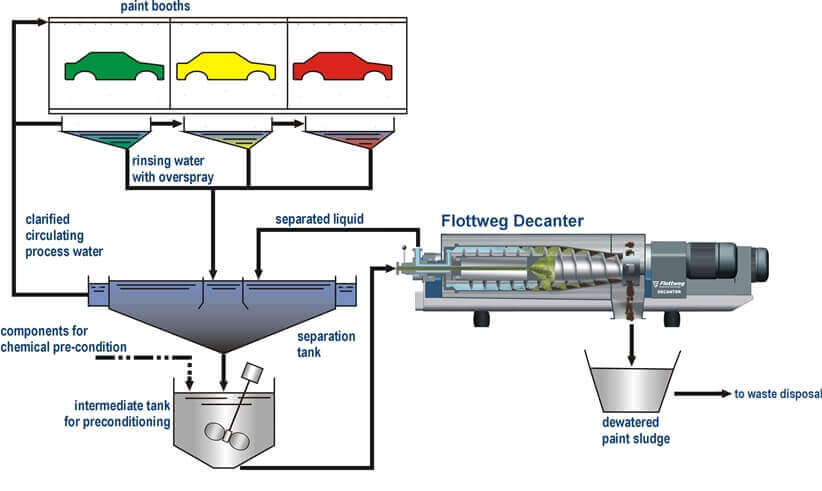 The Possibilities of our Flottweg Decanter Technology
Efficient dewatering performance: Reduce sludge volume by up to 90 %
Reduce disposal costs
Minimize the need for coagulant or flocculant
Reuse process water and reduce fresh water consumption
Maintenance-friendly design
Special wear protection adapted to paint sludge processing
Low space requirements due to compact construction of the centrifuges
"Made in Germany" with decades of the tried and true expert knowledge of our employees to ensure the long life, high value, and efficiency of our machines.
Flottweg – Our System Technology for Your Success!
From the first consulting meeting to the commissioning and maintenance of your tailor-made systems – we are at your side with support throughout the process. We always have our eye on your success.
Our employees do what it takes to develop the perfect overall concept for the machine. Tailored to your process for the efficient dewatering of paint sludge.
Use our contact form and get the advice of our decanter experts today!
Similar fields of application

Do you have any questions about applications?
Would you like to know more?
Talk to us or write us!