Processing liquid manure: from liquid manure to valuable raw material
Liquid manure is valuable. It contains elements that are essential for plant growth. However, large quantities of these can become a problem. Above all, high phosphate and nitrogen content makes storage and processing difficult. How can this disposal problem be solved and the nutrient cycle closed? The answer lies in separation.
Breeding farms produce considerable quantities of liquid manure. Even storage is critical, because untreated liquid manure tends to be aggressive to toxic. In order to avoid accident hazards such as suffocation or drowning, operators must comply with numerous safety regulations. In addition, there is the high odor and particulate pollution.
In certain regions and seasons, restrictions apply to the spreading of liquid manure. Farmers must either create significantly larger storage capacities or transport their liquid manure to other regions. This "manure tourism" is associated with further costs and additional emissions.
The answer to these challenges lies in processing: Centrifugal dewatering with a decanter separates liquid manure into solids and process water. The aim is to bind as much phosphate and nitrogen in the solids as possible. This provides farms with natural fertilizer on the one hand and process water for irrigation on the other.
The mobile separation system MoRoPlant processes liquid manure before storing in an energy-saving and cost-effective way. The following graphic provides an overview of the overall process.
Our solution for the processing of liquid manure
Customer benefits from dewatering of liquid manure
Increase efficiency
Conventional separation processes for liquid manure, for example with press screws, usually do not bind enough of the nutrients in the dry solids. Consequently, the concentration in the remaining liquid manure is still too high. The MoRoPlant separation system, in contrast, offers a solution that is both efficient and energy-saving. Thanks to a novel conditioning agent and Flottweg's proven centrifugal technology, the system achieves particularly high separation efficiencies for phosphate and nitrogen.
efficient and energy-saving liquid manure processing
innovative conditioning agent
high separation efficiencies for phosphate and nitrogen
In contrast to stationary liquid manure processing plants, the mobile system MoRoPlant is more flexible, energy-saving and cost-effective. As a container system and it can be used at other locations. This makes it ideal for smaller farms, machinery cooperatives and agricultural equipment suppliers. It will also make it possible to process manure lakes, which already represent a major environmental problem in some regions of the world.
flexible container solution
inter-company use
ideal for smaller farms, machine cooperatives and agricultural equipment manufacturers
processing of manure lakes is possible
Extraction of organic fertilizer
The solids extracted by separation are odorless. Safe and simple storage; a safety data sheet is not necessary. The unique added value comes from the fact that the solids can be pelletized and resold, for example as garden fertilizer or spreadable fertilizer for horticultural businesses and garden markets.
safe and simple storage (no safety data sheet required)
no odor pollution
suitable for sale as garden or spreading fertilizer
The centrate obtained is less aggressive or toxic than the original liquid manure. The reduced risk lowers the permit requirements necessary for storage. Odor pollution, particulate emissions and operating costs are also reduced. The water is ideal for irrigating hops and asparagus by sprinkling. It is also suitable for irrigating leguminous crops (five-field farming), thus contributing to sustainable soil improvement.
safe and inexpensive storage because less aggressive/toxic
no odor pollution or particulate emissions
simple application via sprinkling
used for the irrigation of hops and asparagus as well as leguminous crops
low dry solids content (less than 2% is classified as a mineral)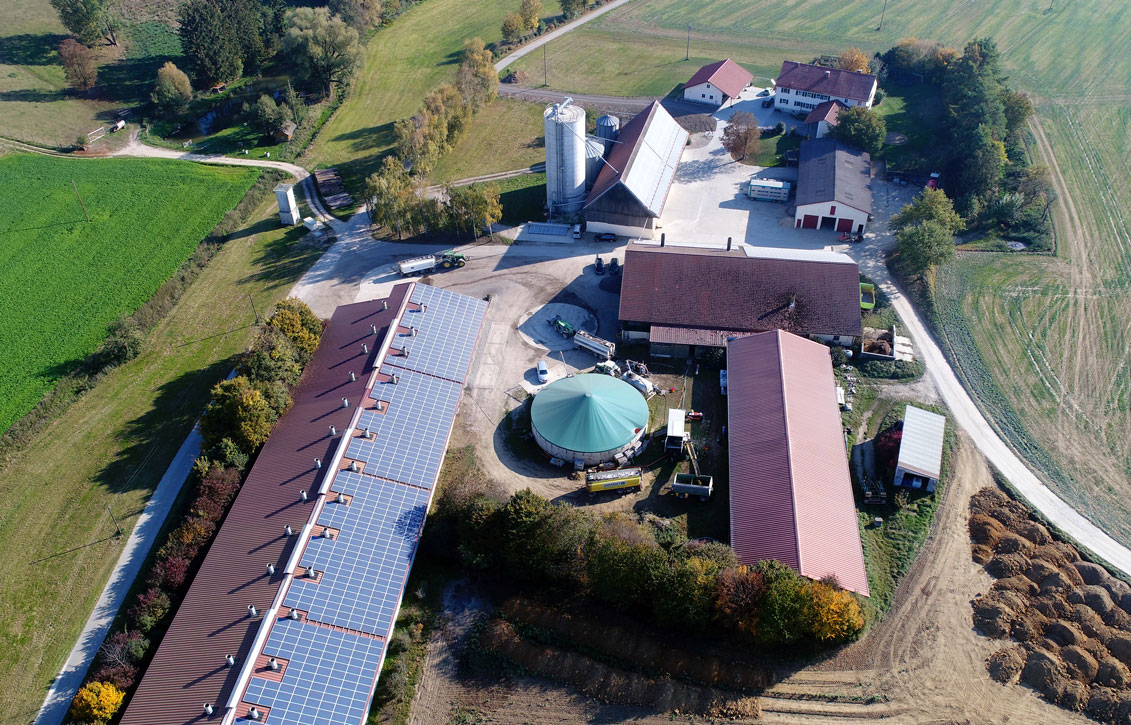 Excellent in DLG test
The measurements took place on a pig farm in Bavaria. On several measuring days, tests were carried out with liquid manure from various pig and dairy herds from a total of six farms. The separation efficiency for dry solids was more than 80 percent.
For nitrogen the separation efficiency was more than 40 percent (pig manure) or 60 percent (dairy cattle manure). Extremely high phosphate separation rates of over 90 percent were achieved.

Would you like to learn more about our solutions for the treatment of sewage sludge?
Similar fields of application