Flottweg Decanter Centrifuges Separate Solids and Liquids Efficiently
When solid/liquid mixtures with a high portion of solids need to be separated, decanter centrifuges are the solution of choice. These machines, called solid bowl centrifuges or decanters – in contrast with chamber filter presses – work continuously. High centrifugal forces separate the finely distributed solid particles from the suspension.
Flottweg Decanters – the Widest Range of Variants in Solid Bowl Centrifuges Used for Mechanical Separation Technology
The modular design of our decanters makes them useful in a wide variety of industries throughout the world – from Australia to Zambia. The centrifuges are adapted optimally to the specific application. Applications range from sludge dewatering to classification and wet classification to sorting of solids.
Flottweg Decanter Centrifuges Embody Our Decades of Experience
Separation of the finest solids from a suspension for an optimally clarified liquid phase (centrate)
Robust design, because they're "Made in Germany"
Consistent separation results, thanks to automatically regulated differential speed and adjustable impeller
Custommade solutions for the individual processes of our customers
Flottweg Decanter Centrifuges for Best Separation Results
The efficiency of the overall process often lives or dies based on the performance of the centrifuge. Every Flottweg decanter centrifuge incorporates our experience from more than 60 years of centrifuge design and over 1,000 applications served.

The basic functional principle of our decanters has been the same for a long time. The centrifugal acceleration separates the solid phase and one or two liquids from one another. The sediment (the solid phase) collects at the bowl wall due to its higher density. The transport screw moves the solid continuously to the outlet openings. The liquid phase(s) flows along the scroll.
How Does the Decanter Centrifuge Work in Detail? – This is how our decanters work.
Since the requirements of the beverage, chemical and food industries or the environmental sector are continually changing, we are continually optimizing and developing our centrifuges.
Our Custom-Made Decanter Concepts
Custom-made designs have been created for different industries. The individual decanter series are based on uniform platforms that are adapted to customer needs using modular designs.
The C Series: Decanter centrifuges in the C Series for dewatering (HTS) and thickening (OSE) of sludges
The X Series: Our highperformance decanters for sludge dewatering in sewage treatment plants
The decanter centrifuges of the Z Series, as either twophase decanters or as Tricanters® (three-phase centrifuges) for the separation of two liquids of different densities and a solid phase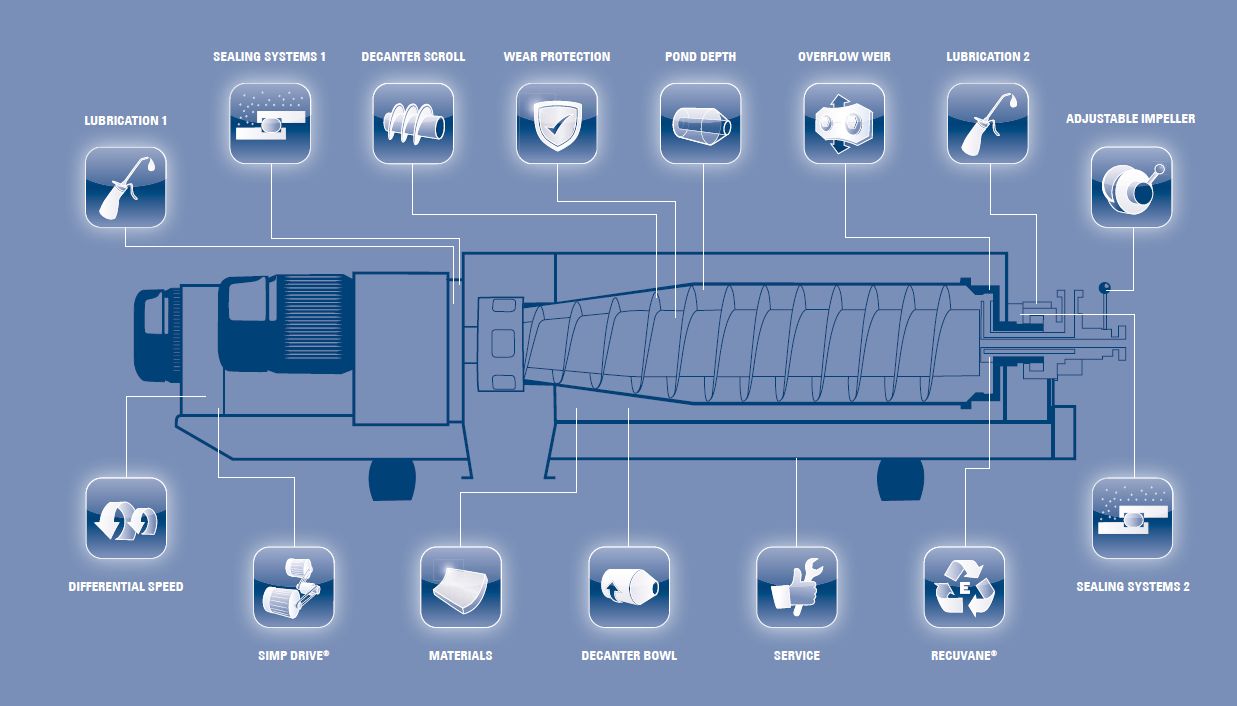 A Secret to Performance: The Features of Our Decanter Centrifuges
A centrifuge has numerous parameters and factors of influence that affect the separation results. In addition to the bowl and scroll (the transport screw), there are a variety of features that make our decanter centrifuges higher-performance, more user-friendly and longer-lasting.
A hygienic centrifuge is essential in the food industry. Conversely, when separating aggressive mixtures, a vapor-proof, gas-tight decanter is required. When separating abrasive materials, increased wear protection is used.
With optimum configuration, our decanter centrifuges are ready for any application, 24/7.
Our features for your separation success – find details here.
Flottweg Decanter Centrifuges for Your Success
Flottweg has been building decanters since 1956. As a globally acknowledged vendor of individual solutions for solid/liquid separation technology, we have advanced the development of the decanter centrifuge over decades and have configured it for an extremely wide range of separation tasks. High quality, efficiency and durability are three variables that can be advanced in favor of the Flottweg decanter.
To guarantee this for the long term, we offer our competent Flottweg Service. From service to training and optimization, and even including repair of your decanter centrifuges, we are at your side.
Decanter centrifuges from Flottweg. Benefit from efficiency, durability and high quality. Contact our decanter experts.