Producing Potato Starch
Potato starch is used in a wide variety of applications. In addition to its classical use in the food industry, for example, it is also used as a technical starch in the paper and chemical industries. Since potatoes have a high water content of 75%, the manufacture of potato starch is costly and difficult.
As a result, potato starch factories have the challenge of reducing their consumption of fresh water and energy while still producing high starch quality. This is why Flottweg has developed decanters and belt presses for the production of potato starch. With our machines, resources are spared and top product quality is achieved.
Flottweg Industrial Centrifuges for Potato Starch
Flottweg Industrial Centrifuges and Belt Presses are especially used in the potato industry for the production of:
Potato starch
Potato protein
Potato pulp
Potato gratings
For each of these applications, Flottweg develops optimum process lines and supplies the appropriate decanter centrifuges. They are designed for the efficient production and preparation of starch, fibers, and proteins. That increases your effectiveness and reduces process costs.
The manufacture of starch from potatoes is an energy-intensive process with high water consumption. With our machines, your starch processes can be more efficient and frugal.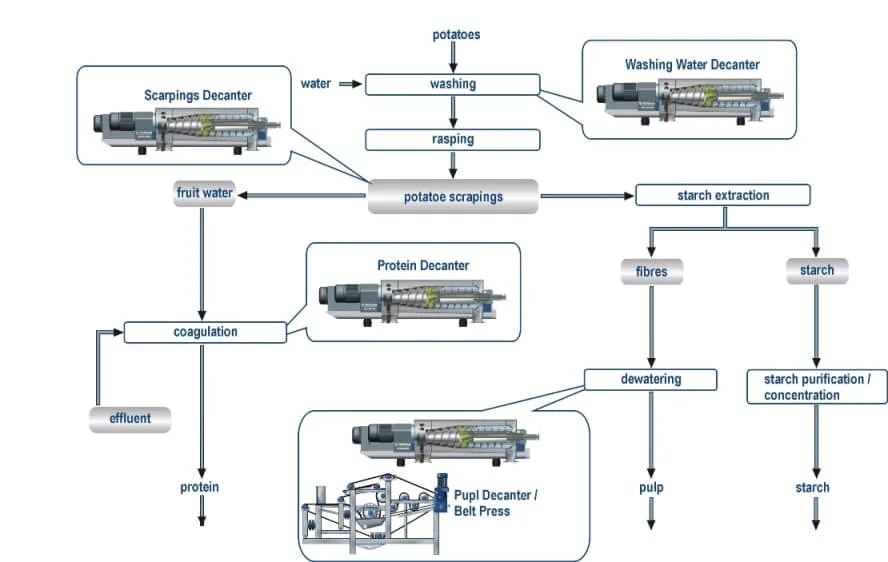 Flottweg – Your Capable Partner for Decanters and Belt Presses:
Efficient engineering in close cooperation with the end customer and/or local contractors
Worldwide references from all known starch manufacturers
Long-term cooperation with well-known subcontractors
Reliable support when commissioning and optimizing your system
Still have questions about the production of potato starch? Feel free to contact us!