Saving Resources During Potato Starch Extraction
Potato starch extraction is cost-intensive and difficult. First, it is important during the starch production to reduce the consumption of fresh water and power. However, it is essential to achieve high starch quality.
Potato starch extraction with Flottweg industrial centrifuges is efficient.
Flottweg industrial centrifuges and belt presses extract starch, fiber and protein from potatoes. Our coordinated process lines and industrial centrifuges increase productivity and reduce your process costs.
Profit From the Savings Potential Provided by Flottweg Industrial Centrifuges
Resources such as fresh water and energy are used sparingly.
Lower production costs
Better quality of the starch, protein and potato pulp
Higher potato starch yield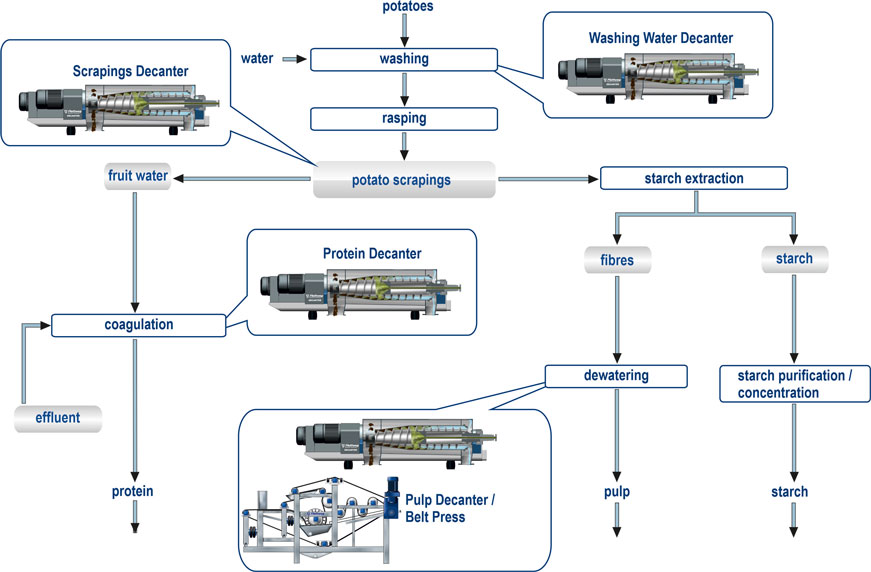 The Flottweg wash water decanter is extra robust against wear
The potato wash water contains other abrasive contaminations. These particles increase the wear in the industrial centrifuges. The special protective coatings and exchangeable sleeves of the Flottweg decanter reduce the amount of effort for repair and maintenance.
High throughflow and solids quantities are easily handled by the gratings in the decanter
When dewatering the resulting potato fibers and gratings, it is important that the decanter processes large amounts with a high solids content in a short period of time. Flottweg's Simp Drive® drive concept easily achieves high differential speeds. The differential speed automatically adapts to the respective feed concentrations during operation.
The protein decanter continuously withstands high temperatures
The potato fluid is heated to nearly 120° C to separate the potato protein. After heating, the potato fluid, which is still hot, is pumped into the decanter. The protein decanter must therefore continuously withstand high temperatures. High-quality bearings and seals qualify our industrial centrifuges for long-term use.
Pulp dewatering saves drying costs
After dewatering the potato pulp, the total dry solids of the solid is decisive for the resulting drying costs. The drier the dewatered pulp, the cheaper the disposal. The Flottweg belt press dewaters the resulting potato pulp in a continuous process to the highest possible total dry solids. The water used can be resupplied to the process.
For hygienic applications, the dewatering of the potato pulp occurs with decanter centrifuges. The closed system of the decanter also prevents the ingress of oxygen. This slows the oxidation of the pulp.
Flottweg offers you the best service when it comes to potato starch extraction
Testing facilities and rental machines for extensive on-site tests
Efficient engineering with customers and local contractors
References worldwide
Reliable support when commissioning and optimizing your plant
Learn more about extracting potato starch with Flottweg industrial centrifuges! Our expert consultants are happy to help you.
Similar fields of application

Do you have any questions about applications?
Would you like to know more?
Talk to us or write us!