Saving Resources During Potato Starch Extraction
Potato starch is primarily used in the food industry. But what you probably don't know is that potato starch is also used in other applications, for example, as a technical starch in the paper and chemical industries.
There are several reasons why the production of potato starch is both cost-intensive and difficult. First, it is important during the manufacturing process to reduce the consumption of fresh water and power. However, it is essential to achieve high starch quality.
This is why Flottweg develops belt presses and decanters for potato starch manufacturing.
Efficient Production of Potato Starch With Flottweg Industrial Centrifuges
With Flottweg industrial centrifuges and belt presses, potatoes can be processed to yield starch, protein, potato pulp and gratings. For each of these applications, Flottweg develops optimum process lines and supplies the appropriate decanter centrifuges. They can be used for the efficient extraction of starch, fibers and proteins from potatoes. That increases your productivity and reduces process costs.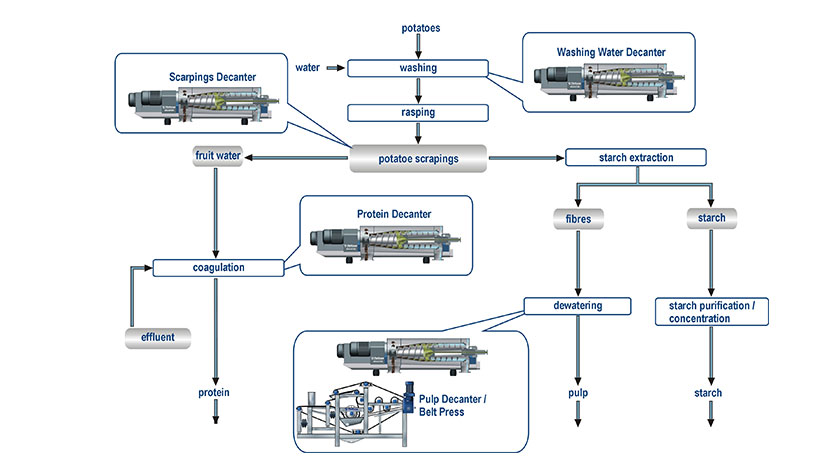 Profit From the Savings Potential Provided by Flottweg Industrial Centrifuges
Resources such as fresh water and energy are used sparingly
Lower production costs
Better quality of starch and pulp
Higher yields
Flottweg Offers You the Best Service Around the Product
Efficient engineering with end customers and local contractors
Worldwide references from all known starch manufacturers
Long-term cooperation with well-known subcontractors
Reliable support when commissioning and optimizing your system
With our machines, you save resources while achieving the best product quality.
Want to learn more about how potato starch is manufactured? Our expert consultants are waiting for your questions!