Extraction of Tapioca Starch
Tapioca starch, like wheat starch, has become one of the most important starch sources in the world. This is because tapioca contains no gluten, no protein, and no fat, and consists nearly 100% of carbohydrates. As a result, it is very popular in culinary cuisine. But tapioca is used in other industries as well:
In the food industry as a sweetener or sauce binder
In animal feed manufacture as a source of carbohydrates
In the textile and paper industries
In tablet production as a binder
Tapioca starch is extracted from the root of the manioc plant. This plant, also called cassava, grows primarily in the tropic belts of Asia, Africa, and South America. The extraction of tapioca is very difficult and cost-intensive. 1 kg of tapioca is obtained from 4.4 kg of manioc roots.
Tapioca factories therefore have the challenge of reducing their energy and water consumption as well as their production costs, while maintaining the same high quality. Factory owners therefore rely on top quality in their systems.
In the extraction of tapioca, Flottweg Industrial Centrifuges represent an optimum solution to the individual needs of our customers.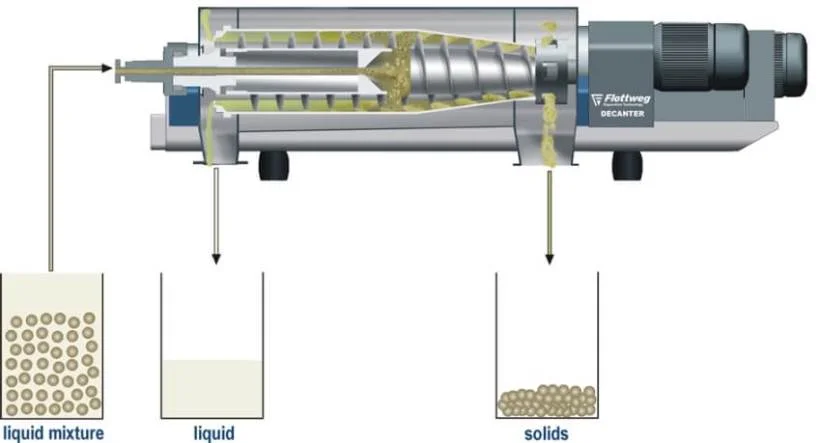 Flottweg Industrial Centrifuges for Tapioca Starch
Flottweg Industrial Centrifuges for the extraction of tapioca starch save resources, optimize load, and provide the best quality of results. They support the processes of:
Separation of the starch milk
Separation of liquids
Separation of fruit water
Dewatering and thickening of pulps obtained
Prevailing conditions, the industry, and the size of the factory determine the requirements for the separation process.
With Flottweg Industrial Centrifuges for tapioca extraction, you get the perfect separation solution for your own process.
Contact our experts for advice and reduce your process costs!
Flottweg – Your Strong Partner for Industrial Centrifuges for Tapioca Starch:
Efficient engineering together with the end customer and/or local contractors
Worldwide references from all known starch manufacturers
Long-term cooperation with well-known subcontractors
Reliable support when commissioning and optimizing your system
Still have questions about the production of tapioca starch? Why not get in touch?