Efficiency in All Process Levels With Tapioca Starch Extraction
In addition to potato starch, wheat starch and corn starch, the tapioca starch, cassava or manioc gained importance in recent years. Tapioca contains no gluten, protein or fat, and consists almost entirely of carbohydrates. Tapioca starch is used in a wide variety of industries:
In the food industry as a sweetener or sauce binder
In the production of animal feeds as a source of carbohydrates
In the textile and paper industries
In the production of tablets as a binding agent
Save Production Costs in Tapioca Starch Production
Tapioca is extracted from the manioc root. This plant grows primarily in the tropic belts of Asia, Africa and South America. The extraction of tapioca starch is difficult and cost-intensive. About 4.4 kilograms of root tubers are needed for 1 kilogram of tapioca.
Manufacturers of tapioca starch are faced with the task of reducing their energy and water consumption, as well as their production costs. At the same time, a high starch quality is required. For this reason, the use of highly efficient plants is important in the production of tapioca starch.
Flottweg Industrial Centrifuges Are the Best Solution
Flottweg industrial centrifuges for the extraction of tapioca starch save resources, optimize loads and provide the highest quality. They support the processes of:
Separation of the fluid from the tapioca gratings
Dewatering and thickening of resulting pulps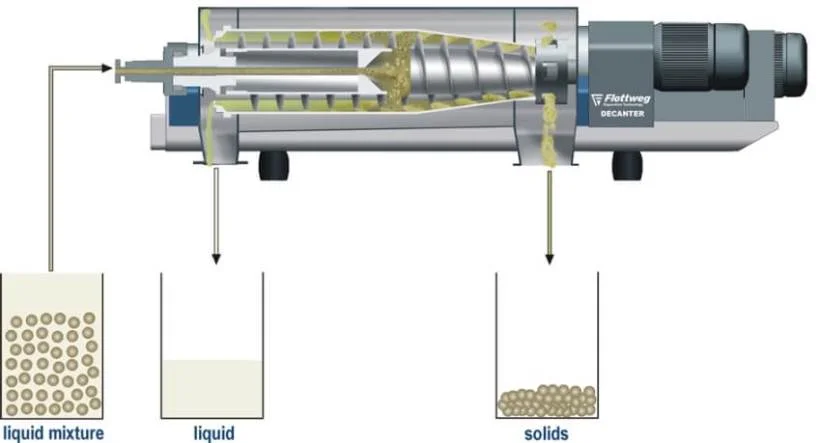 High Quantities of Tapioca Gratings in a Short Period of Time
Industrial centrifuges are used to separate the tapioca gratings from the fluid. The mixture of gratings and fluid contains a high quantity of solids. A powerful drive like the Flottweg Simp Drive® is therefore indispensable. It provides high differential speeds and automatically adapts to conditions during ongoing operations. The industrial centrifuge separates high amounts of tapioca gratings in a short period of time.
The efficient separation of the fluid increases the starch yield and the service life of the plant. In addition, it saves resources (such as water).
Efficiently Dewatering Tapioca Pulps
After extracting the starch, operators dewater the resulting tapioca pulps in order to reduce the transport and drying costs. Compared to screw presses, industrial centrifuges dewater with less space, and they are clean and efficient. The drier the dewatered pulp, the lower the quantity to be disposed.
Flottweg Is Your Partner for the Extraction of Tapioca Starch
Testing facilities and rental machines for extensive on-site tests
Efficient joint solution finding and consultation from the start of your process
Worldwide references from all known starch manufacturers
Reliable support when commissioning and optimizing your plant
Are you interested in our products and want to learn more about tapioca starch extraction with industrial centrifuges? Contact our experts for advice and reduce your process costs! Then get in touch with us!
Similar fields of application

Do you have any questions about applications?
Would you like to know more?
Talk to us or write us!