Hygienic Separation Technology for Pharmaceutical and Industrial Biotechnology
There is an almost infinite variety of processes, products and methods in the field of pharmaceuticals and biotechnology. The goal of manufacturers is to produce a high-quality recyclable material while minimizing losses during the production process.
It is crucial to maintain high quality with high yield throughout all process steps. The efficient separation of the product or liquid from the biomass is the basis for good product processability in the next process steps, which at the same time minimizes product losses.
Flottweg separation technology is used to separate the recyclable material from the biomass. Our decanters and separators are high-quality machines with numerous functions and automatic processes; they contribute to a high yield and consistently high product quality.
Flottweg has decades of experience creating separation solutions for the pharmaceutical and biotechnology industries. Our centrifuges are characterized by the highest hygienic standards, flexibility, and "Made in Germany" product quality. Thanks to our worldwide service network, we can guarantee maximum availability of our machines for the continuous production of your products.
Overview of our application areas
Industrial biotechnology is the term used to denote the manufacturing of organic compounds from renewable raw materials utilizing enzymes or organisms such as yeasts, bacteria or fungal cultures. The objectives are to replace petroleum-based products with renewable raw materials and to counter the growing demand for finite, naturally occurring products.
In industrial biotechnology, fermentation processes are a key process step. Flottweg decanters, Sedicanter®, separators and nozzle separators can be used to efficiently separate a wide variety of fermentation products from a biomass.
Manufacturers of plant extracts face two major challenges in their production process: the processed products are very sensitive and, depending on the season, they are often available in different forms (fresh product or dried product). Many manufacturers also process several products on a single process line. Therefore, it is important that the machines used react flexibly to changing framework conditions.
Flottweg decanters, separators and Sedicanter® efficiently and continuously separate the biomass from the liquid. Our industrial centrifuges are designed according to the latest hygienic standards and can be easily integrated into a fully automated process line with CIP cleaning. Our decanters are primarily used in the pre-clarification process to obtain a high yield of liquid extract. Flottweg separators clarify the liquid extract a second time for the purest possible end product.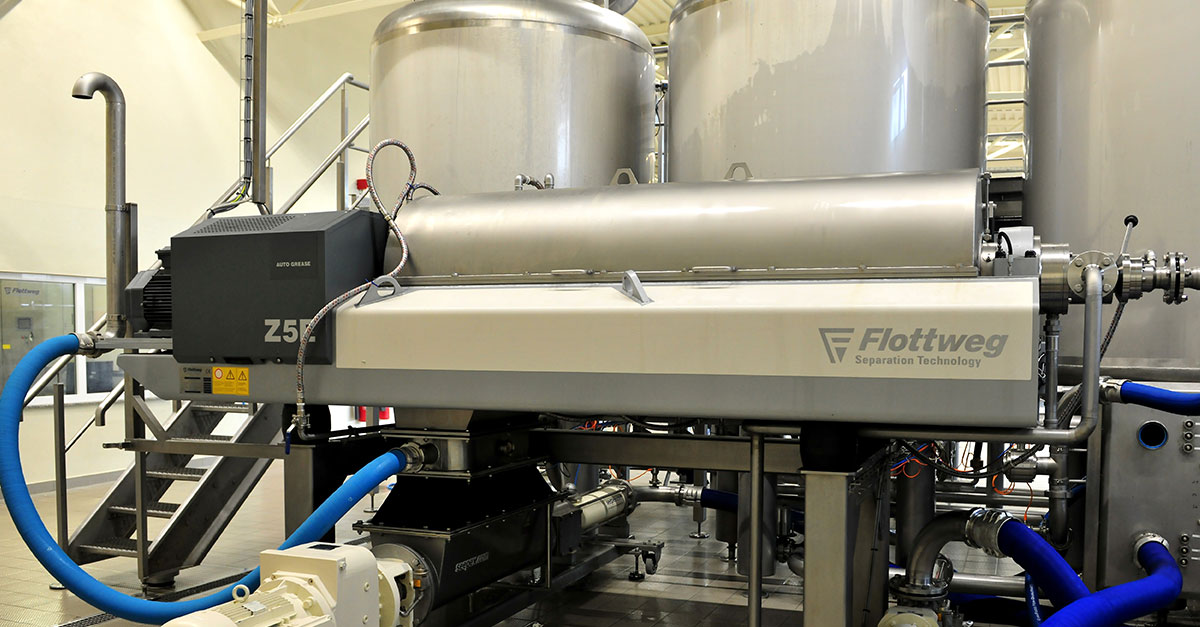 The versatile Algae are considered by many to be the raw material of the future. State-of-the-art separation technology is needed to efficiently harvest algae and to maximize raw material yields. Flottweg has developed the "enalgy process" precisely for this purpose.
In principle, two processes are possible, each using a high-quality Flottweg centrifuge: A single-stage process with a Flottweg separator is suitable for small to medium-sized operations. Industrial scale plants benefit from a two-step process in which the Flottweg Sedicanter® takes over the actual cell harvesting after pre-concentration.
Innovations through collaboration – Flottweg & Extractis
Extractis is a technical institute specializing in plant biomass extraction and in the development of innovative products and processes. The French company helps its customers to develop new products and efficient processes. A total of 3 Flottweg industrial centrifuges – two decanters and one Sedicanter® - support Extractis in the development and optimization of products and processes. Learn about the benefits this creates for Extractis in the video.