Flottweg SE – Our headquarters in Germany
Flottweg – a Global Market Leader from Our Region
Flottweg is a family-owned company specializing in separation technology. Flottweg always has the measurable success of the customers as their goal. Flottweg SE is one of the world's leading manufacturers of industrial centrifuges, belt presses, and systems. It is their love of detail and enthusiasm for mechanical engineering that make them as manufacturer so unique.
Flottweg, as a global market leader, is one of the most popular employers in the Landshut region with more than 1100 employees worldwide, 900 of which are based at the Vilsbiburg headquarters.
In 2021, the new plant II was built in the Baumgartenstraße 29, Vilsbiburg. The new company premises building has been the largest single investment in the almost 100-year history of Flottweg. Around 55 Mio. € were invested in the building of Plant II in Vilsbiburg.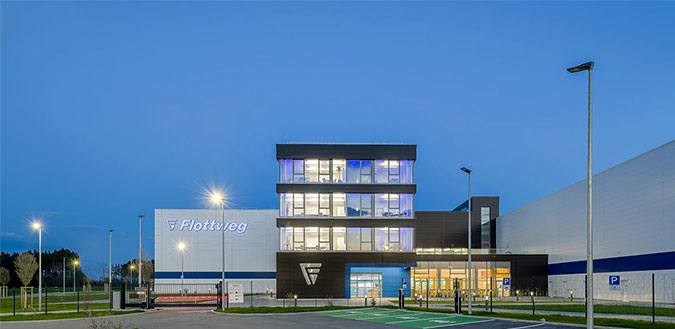 The People Behind the Success
We pass our know-how down from generation to generation. Since 1946, we have had our own teaching workshop at our headquarters in Vilsbiburg, in which our apprentices can learn their professions in a practical setting.
Building careers in the company is more than just an interesting development opportunity for Flottweg. We see it as a clear challenge to everyone to bring their own knowledge, engagement, and personality into the company. Because the success of our customers is always based on our know-how and our employees.
Decanters, Disc Stack centrifuges, and Belt Presses – Quality Made in Germany
Since Flottweg was founded, our passion has been to design, plan, and build machines. Our passion for technology started with the manufacture of aircraft engines and motorcycles, and since 1956 has continued with the development and production of industrial centrifuges, belt presses, and systems.
We produce and develop our Flottweg machines and turn-key solutions exclusively at our facility in Vilsbiburg, Germany. All our decanter centrifuges, separators, belt presses, and systems are quality Made in Germany.
The centrifuges, belt presses, and systems are used in a wide variety of industrial sectors.
Satisfied customers are our success
Flottweg has gathered a huge body of knowledge about separation technology over decades. We use that knowledge every day for the success of our customers. Based on our technology and experience, we strive to offer the best solution on the market. With our own Flottweg offices in Cologne and Leipzig, our customers in the German market have a contact on site at any time.
Globally, Flottweg offers competent consulting and quick, reliable customer service with 11 other subsidiaries and representatives in nearly every country in the world. Our sales and service centers stay in close contact with Flottweg Vilsbiburg to ensure short communication pathways while handling projects.
Innovative and Diverse
Flottweg has been developing and manufacturing high performance decanter centrifuges, disc stack centrifuges, belt presses and systems for solid-liquid separation for more than 60 years. Each project is unique, offering thus the possibility to acquire new skills, develop individual solutions and reach pre-defined goals together. Innovation is part of the company's success, thus playing an important role. Flottweg always faces new challenges and develops specific solutions. Ultimately all that matters is the customers' success. Flottweg invest in new technologies and products to stay a step ahead of the market at all times.
Your contact at Flottweg in Germany
Flottweg SE
Industriestr. 6-8
84137 Vilsbiburg
Germany
Phone: +49/ 8741 301-0
Fax: +49/ 8741 301-300
Email: mail@flottweg.com