Efficient Dewatering of Waterworks Sludge
Waterworks sludge is formed during the cleaning and treatment of drinking water. Disposing of the sediment sludge can result in significant transportation and disposal costs.
These costs can be reduced to a minimum using Flottweg's decanter technology - entirely in keeping with our motto 'Engineered For Your Success'.
Sustainable Drinking Water Treatment with Flottweg
Drinking water is a self-evident given for many people. Every person uses an average of several hundred cubic meters of water per year. A report by the United Nations (Water for a Sustainable World, 2015) has predicted that the world population will be 9.1 billion by 2050. There were about 7.3 billion in 2015. Such an increase has drastic consequences for available potable water. For more and more people, pure drinking water will become something special.
That is why the treatment and purification of waste water will be even more important.
Flottweg has taken on this challenge and developed the optimal solution for dewatering the sludge from waterworks using its decanter technology.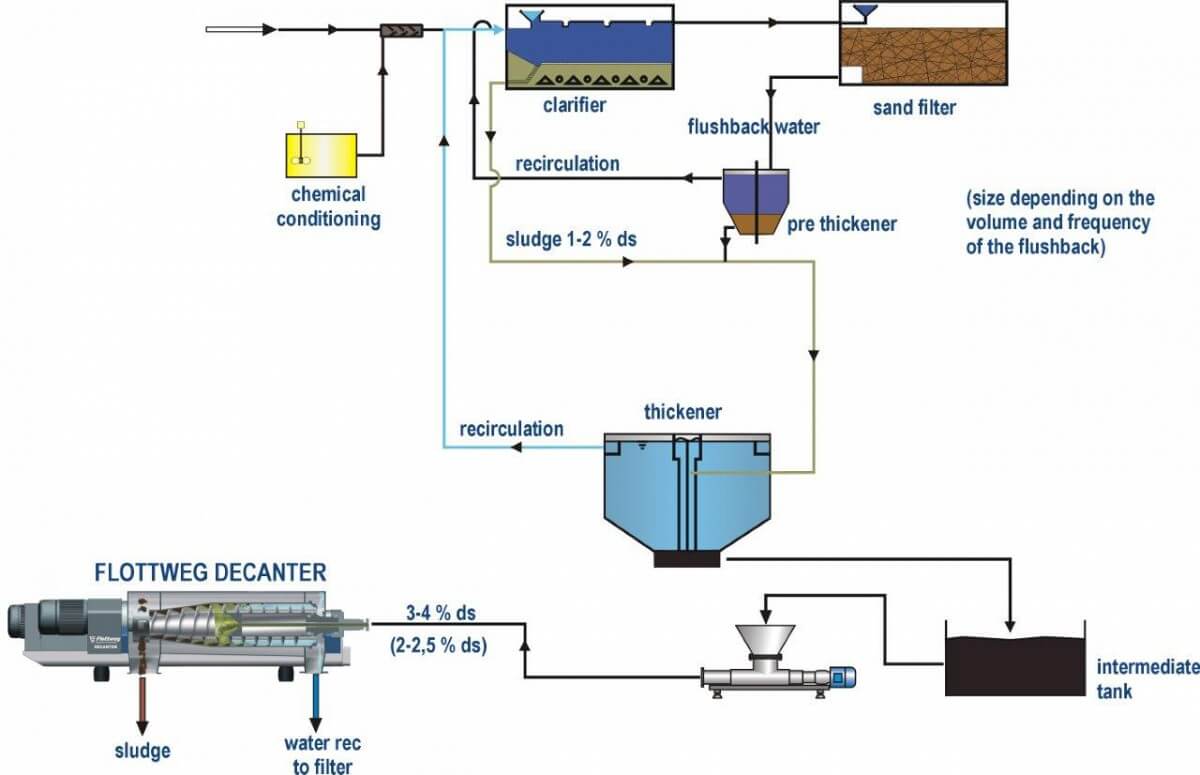 Flottweg Decanter for Optimal Dewatering of Waterworks Sludge.
The dry substance value (DS) of the sludge sediment is between 1% and 4% DS before dewatering.
The Flottweg decanter is equipped with our own Flottweg Simp Drive® drive concept. This regulates the differential speed in the drum and automatically adjusts it to every change in the product properties of the sludge. This enables the Flottweg decanter to maintain a consistently high DS value in its output.
Maximum pressing of the sludge, without operating personnel intervening, reduces the volume that needs to be removed to the minimum.
The result is lower relevant costs and wear and tear on the environment month after month.
All Advantages of the Flottweg Decanter for Dewatering at a Glance:
Maximum DS value with minimal polymer requirement.
Significant reduction in energy consumption.
Optimised process costs due to continuous and automatic operation.
The Flottweg Recuvane® System for energy savings of about 20 percent.
No cleaning cycle during the operating phase.
Highly effective wear protection.
Gas-tight, hygienic version available. The Flottweg decanter can also be used in potentially explosive atmospheres.
Maintenance-friendly design for minimum downtime.
Flottweg Touch Control for easy operation and user-friendly control.
Saves on resources, high performance, maintenance friendly and affordable – the Flottweg decanter centrifuge for dewatering waterworks sludge!
Benefit from the advantages of the Flottweg decanter technology for the efficient and sustainable dewatering of waterworks sludge. Get in touch with our centrifuge experts and find out how you can lower your operating costs!