Flottweg InGo – The new user interface
Easier Control
The manual control of machines and equipment was yesterday. Today, automation is the cornerstone of mechanical and plant engineering. Automation simplifies and accelerates processes that can sometimes be very complex. The prerequisites are high information density and intuitive user-friendliness - made easy with our InGo operating concept.
For fully automatic operation, the evaluation of the individual functions plays a decisive role. Only then is a flawless process possible. With InGo, you always have an overview and control over all process components.
Suitable for all machines
Whether individual machines or complex processes - our InGo user interface works with all systems. The elements always have the same structure. With InGo, operation is always the same.
You will find all information about our machines and equipment here.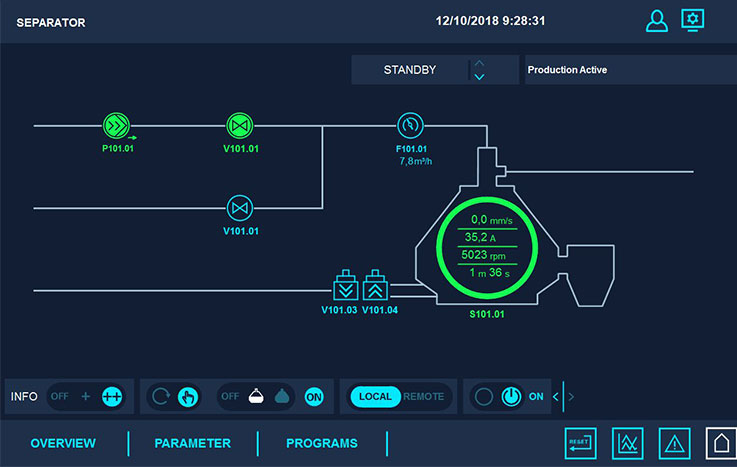 A high level of process reliability and controllability
The new machine controller enables fully automatic interaction of individual process and system components. Nevertheless, you always have control over all process parameters. Users can see at a glance whether all is well - even in difficult lighting conditions or outdoors.
In addition, the controller meets the highest standards in operational safety. This ensures a high level of process reliability even when components (such as a switching cabinet) are integrated.
Save time and money
InGo saves users' time in operating the system and thereby saves operating costs. The operation is based on the concepts of smartphone and PC and therefore intuitive for everyone. User acceptance is assured and extensive training is unnecessary.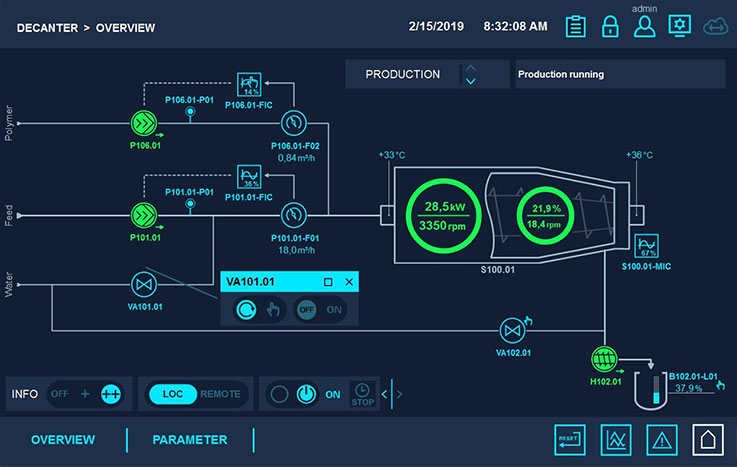 Plug & Play - immediately ready for use
We want to make our customers successful. For us, this includes not only a perfectly functioning machine, but also a perfectly synchronized process. Our decanters, separators and belt presses interact with other systems and are often integrated into existing processes. InGo makes sure of this.
Flottweg InGo – Winner of the German Design Award 2018

The InGo's innovative user interface, revolutionary color design and intuitive operating architecture were rewarded by the jury of the German Design Award 2018 (category Human-Machine Interface "Interactive User Experience"). Despite its high information content, the interface is not cluttered, but clearly structured and easy to use - an interface that everyone immediately understands.
An interface that everyone immediately understands.
Based on everyday life, the new operating philosophy is intuitive and easy to understand - to the satisfaction of users and operators, as can be seen in this video.

Would you like to learn more about our process solutions?