Flottweg Decanters and Separators for Whey Processing
In the manufacture of cheese, there is always some residual cheese curd that remains in the whey. Today, that whey is an important raw material for a whole series of other products (lactose, whey protein, etc.). To operate the process of whey extraction according to current hygienic requirements while obtaining a high level of recovery, Flottweg offers separators and decanters for whey processing.
Dust Removal from Whey with the Industrial Centrifuge
For cost-effective further processing and to increase yield, industrial centrifuges are used to remove the residual cheese curd from the whey first.
The concentrate of fine cheese curd components obtained from the separators is then further dewatered with the Flottweg Decanter until a crumbly cheese mass results with around 40 – 45 percent dry substance.
Depending on the type of why and the desired consistency, the dry mass content can be variably adjusted with the decanter. The dewatered end product can be further processed in different ways. With consistently hygienic processing, its use in the food industry remains an option.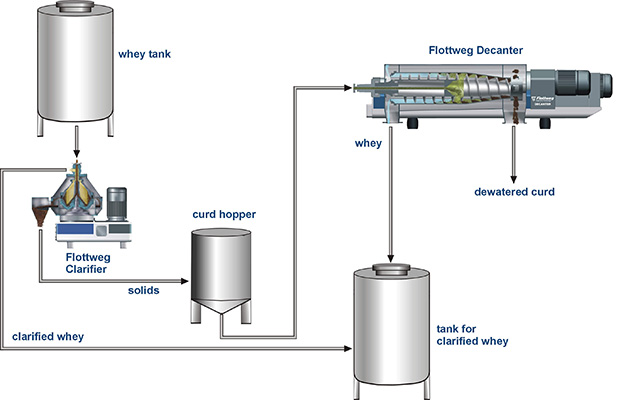 Top Hygiene Standards for Whey Processing
The decanter designed specifically for food applications is completely CIP-capable. All the seals and lubricants used are certified for use with foods. The decanter components that come into contact with the product, already stainless steel in the base variant, have stricter surface requirements so that they meet the requirements of the food industry. Another special feature is the option for a stainless steel rotor bed, which also permits the cleaning of outer surfaces at all times.
With Flottweg, Reduce Costs and Increase Yields
Flottweg's decades of experience in the food industry is truly a bonus in whey processing. Thanks to the reuse, waste during production is reduced and the recovered whey can be further processed. That saves costs and increase yields right from the start. And Flottweg Separators and Decanters set standards when it comes to yield, gentle processing, and hygiene.
Contact us today for advice from our experts in whey recovery and dust removal from whey.
Similar fields of application

Do you have any questions about applications?
Would you like to know more?
Talk to us or write us!