2022-02-02
Natural all-rounder starch – interview with sales engineer Manfred Kropp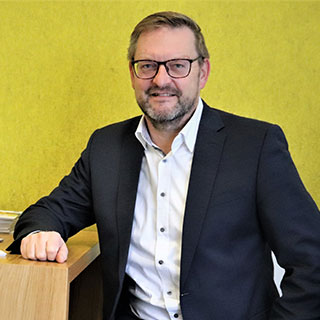 The starch process is fundamentally very complex and costly. Everything has to work together from start to finish, as the process runs continuously – 24 hours a day, seven days a week.
Manfred Kropp

Sales engineer at Flottweg
Starch is a product that repeatedly plays an important role in many areas of everyday life. But how can starch be obtained and what are the key challenges in the manufacturing process? Manfred Kropp, sales engineer at Flottweg, answers these and other questions in an interview.
From which foods can starch be extracted? How do the various end products ultimately differ?
The raw materials for starch production worldwide are mainly wheat, corn and potatoes. In southern regions, tapioca (also known as cassava or manioc) is used as a source of starch instead of potatoes. There are also some niche products such as rice or pea starch. The various sizes of starch grains result in different application possibilities – for some applications, larger starch particles are more useful, whereas for others smaller ones are better for processing.
What is the extracted starch used for in everyday life?
The range of applications is very wide: Starch is often used as a gelling and thickening agent in the food industry, but there are also a number of variations here, such as in baked goods, convenience products or sauces. The use also depends on whether the starch is native or modified. Native starch is untreated, while the modified type has been chemically and physically processed to achieve even more specific properties. There is also the technical starch that is used, for example, as an additive in the paper industry. Starch is also often used in many chemical products, such as paints and adhesives. Another application of starch is in the oil industry: For drilling fluids, starch is used to make the flushing water more viscous.
What is the biggest challenge in extracting starch? What do you need to pay special attention to?
The starch process is fundamentally very complex and costly. Everything has to work together from start to finish, as the process runs continuously – 24 hours a day, seven days a week. It is therefore absolutely essential that all individual process steps are perfectly coordinated to avoid disruptions. In addition, starch production is a wet process that inevitably requires a lot of fresh water. Of course, manufacturers take care to minimize the use of water, in order to save costs and produce as little wastewater as possible. Process water can be reused, and is an important consideration toward saving fresh water. Another challenge in the starch process is to obtain the highest possible yield. The individual separation steps must work together optimally, otherwise there is a loss of product and reduced starch yield.
Why are centrifuges needed in starch production?
All fractions in the wet process have different sizes and densities. Accordingly, centrifuges are the best means of enabling solid/liquid separation, as they can work continuously, stably and with high selectivity.
What is particularly important for our customers in the field of starch extraction?
As it is a continuous process, 24/7 throughout the year, the mechanical service life and reliability of the process must be guaranteed. It is therefore essential that unexpected downtime is reduced or eliminated. Centrifuges are the key equipment throughout the process, which is why it is so important that they work reliably and without errors.
What advantages does Flottweg's separation technology bring to the starch extraction process?
The technical and mechanical quality of our technologies is of great importance, as it ensures that our customers have little maintenance or downtime. A second key point is the set of technical advantages that our Tricanter® technology brings to three-phase separation. Our impeller system allows very precise and reliable adjustment of the individual phases with three-phase separation. Flottweg provides a core technology for the production of wheat starch in particular.
What else is important?
In addition to the decanters, our new nozzle separator is the second central piece of equipment for the starch extraction process. It was important to us to provide additional key equipment here, which is also frequently used in the production of corn starch or potato starch.