Cost Reductions in Sewage Sludge Dewatering and Sludge Thickening
Different processes are used for wastewater treatment, depending on the size of the sewage treatment plant. Sewage treatment plant operators use Flottweg decanter centrifuges in different phases of wastewater treatment to dewater and thicken sewage sludge. Sewage sludge dewatered with a decanter can be reused or disposed of in different ways – whether recycled in agriculture, incinerated or placed in landfills.
Flottweg Decanter Centrifuges – the Most Efficient Solution
Flottweg industrial centrifuges can be adapted to all conceivable process engineering requirements. Thanks to decades of experience and years of additional developments, we achieve the best dewatering results, whatever the sludge!
Lower purchase and operating costs due to high throughflow and continuous, automated operation
Significant reductions in energy consumption
Highly effective wear protection
No cleaning cycle during the operating phase
On-site replacement of spare and wearing parts and operating safety checks (accident prevention regulations) possible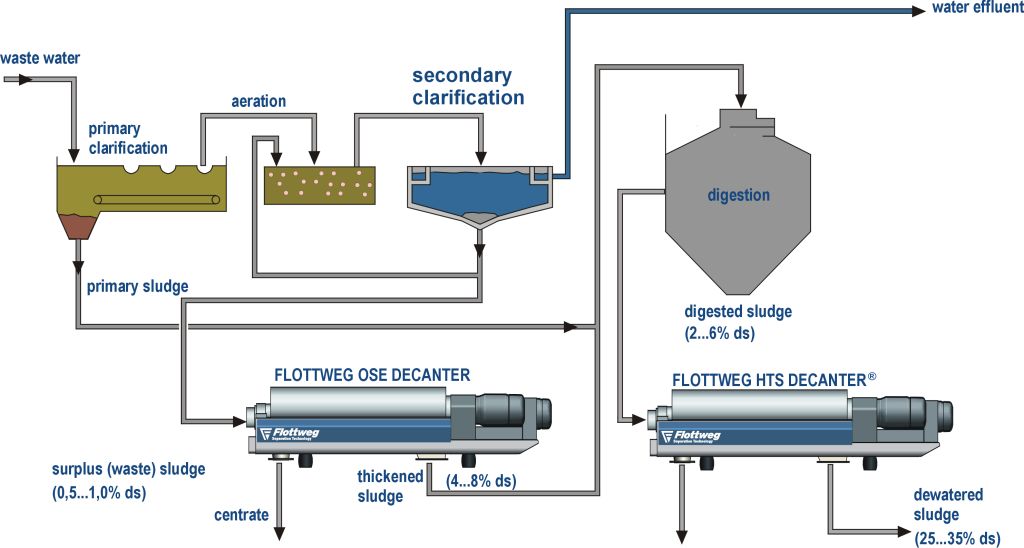 Flottweg OSE Decanter – Cost-Effective Thickening of Sewage Sludge
Thickening of sewage sludge means concentrating the surplus sludge from the biological stages from 0.5 to 1 percent total dry solids to 6 to 8 percent. This reduces the sludge volume by 90 to 95 percent. The thickened sewage sludge can then be pumped into a digester.
Flottweg designed the OSE decanter (OSE = optimum sludge thickening) specifically for the thickening of sludge. It is high-performance, reliable and cost-effective. The decanter has decisive advantages over other thickening units.
High throughput
No or low polymer requirements
Suitable for processing mixed and primary slurry
Closed design to reduce odor emissions
Compact construction, low space requirement
Flottweg HTS Decanter – Cost-Effective Dewatering of Sewage Sludge
Key to the transport, recycling, landfill or incineration of dewatered sludge is the sludge has to have a high total dry solids content. Other important factors include economical polymer, energy and water consumption as well as low wear. The optimum solution for sewage sludge dewatering is the Flottweg HTS decanter. It offers decisive advantages over other systems.
Maximum dry substance content with minimal polymer requirements
Consumables such as filter media or filter cloths are not required.
Automatic adaptation to variable-speed and operating conditions during operation, via PLC or remote monitoring
Achieve Greater Total Dry Solids With Flottweg
Achieve greater total dry solids in sewage sludge dewatering and sludge thickening in sewage treatment plants. Take advantage of our experience and expertise for more success. Let our experts advise you!