2022-06-28
Energy-saving, maintenance-optimized and powerful Flottweg presents the new nozzle separator at Achema 2022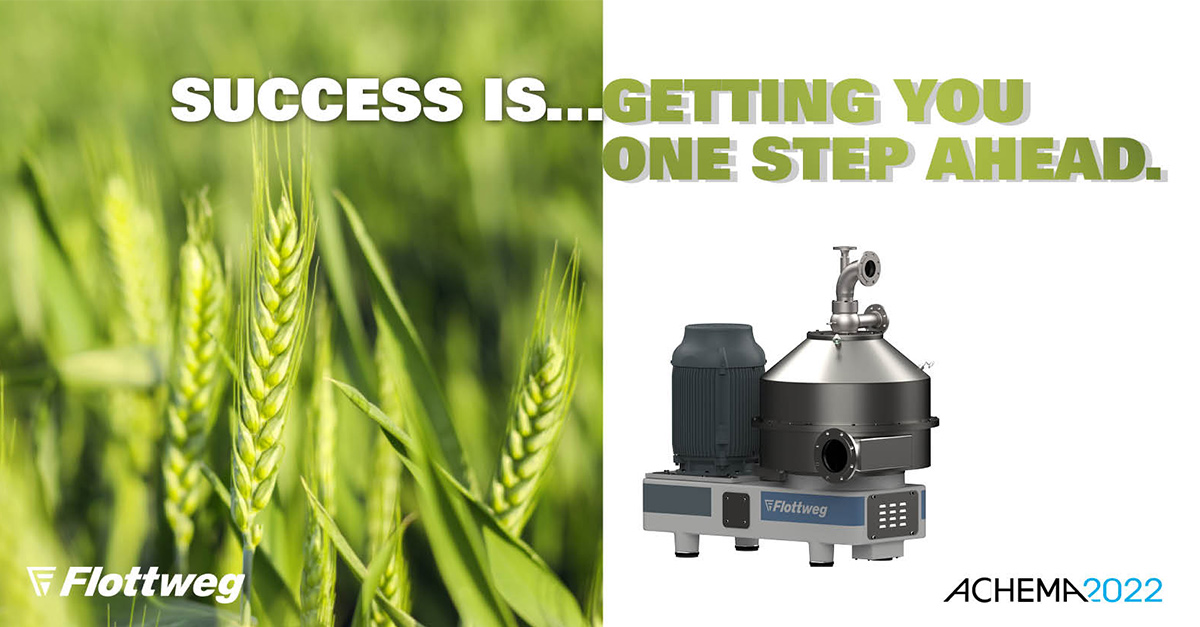 As a separation technology expert with decades of experience, Flottweg is now presenting its nozzle separator as a product innovation at Achema from August 22 to 26 in Frankfurt am Main. The separator has impressive features: low energy consumption, high clarification and separation efficiency, and uncomplicated maintenance. Flottweg's innovative machine raises the bar for solid-liquid separation to a completely new level.
The latest separation system from Flottweg, the global market leader: The innovative nozzle separator
Flottweg expands its family of products with the nozzle separator. The new product is particularly suitable for the continuous separation of solids from liquids, for example in the starch or biotechnology industries. The nozzle separator was developed by separation technology experts together with their customers. The result: An innovative, energy-optimized low-wear design.
The heart of the nozzle separator is the bowl: It is significantly lighter than conventional bowls and therefore requires less drive energy. In addition, the revolutionary bowl design supports the rotary motion of the bowl when discharging the solids, thus saving drive energy. Solids chambers integrated into the bowl prevent uncontrolled sediment formation and can avoid vibration. The concentrate can be conveyed out of the bowl via the solids chambers without leaving deposits. The size of the nozzles' outlets is optimally adapted to the respective process and to the product to be processed.
Small specialist meets high demands: The Z2E
Parallel to the nozzle separator, Flottweg presents the Z2E decanter centrifuge at Achema. Thanks to its compact design and the excellent workmanship expected from Flottweg, the Z2E performs key functions in a wide variety of industrial sectors. The smallest modular machine in the Z series does not forgo the features of larger machines and can be individually tailored to different requirements. This means that fluctuating production conditions and frequent product changes are no problem for the Z2E, making it ideal for small batches and fast cycles.
All information at a glance:
What? ACHEMA in Frankfurt am Main – Flottweg presents a new nozzle separator
When? August 22 – 26, 2022
Where? Hall 12.0, booth A67
Download Text and Photos
Here you can find the whole Achema preview as a PDF