2023-07-03
Flottweg Supplies Estedama Environmental Solution with a Complete Mobile System for Oil Sludge Treatment and Recycling
Estedama Environmental Solution is a company based in the eastern region of Saudi Arabia that specializes in providing wide range of industrial and environmental services including the management of hazardous industrial waste. It decided to commission the specialists at Flottweg separation technology to process oil sludge: Flottweg will now provide a complete oil sludge plant with a pretreatment system, a three-phase separation system with the Flottweg Tricanter®, and a transport system for the separated phases. The fully mobile plant will be delivered by the end of 2023 and put into operation in spring 2024. Faleh Aldossary, General Manager at Estedama Environmental Solution, and Stefan Markus Gnosa, Sales Engineer at Flottweg, discussed the final project details and then signed the contract. During the project development, General Manager Faleh Aldossary was also able to gain an insight into the modern production facilities of the separation technology specialist, where he could assure himself of the quality and expertise of Flottweg.
Customized Solution
Flottweg and Estedama individually designed and customized the complete system so that it can be optimally adapted to different locations as a mobile system. The plan is for this innovative recycling system to be used for Saudi Aramco, the largest oil production company in the world. Flottweg's Tricanter® is the heart of the plant. It separates oil-laden wastewater into three main components: oil, water, and solids. This not only conserves resources but allows for oil to be recovered at the same time, which is a positive thing when it comes to environmental concerns.
Sales Engineer Stefan Gnosa is excited about the project: "Together with Estedama, we've succeeded in designing a system that is fully mobile and based on the professional knowledge and engineering expertise of both partners. Working closely together, we have developed an advanced solution to minimize the environmental impact of oil sludge and maximize the recycling of resources." Faleh Aldossary is also pleased with the project with Flottweg: "The collaboration with Flottweg means we can use our expertise in wastewater treatment to offer innovative solutions for environmentally responsible oil sludge treatment. We look forward to working together as pioneers to revolutionize the industry and make a sustainable contribution to environmental protection."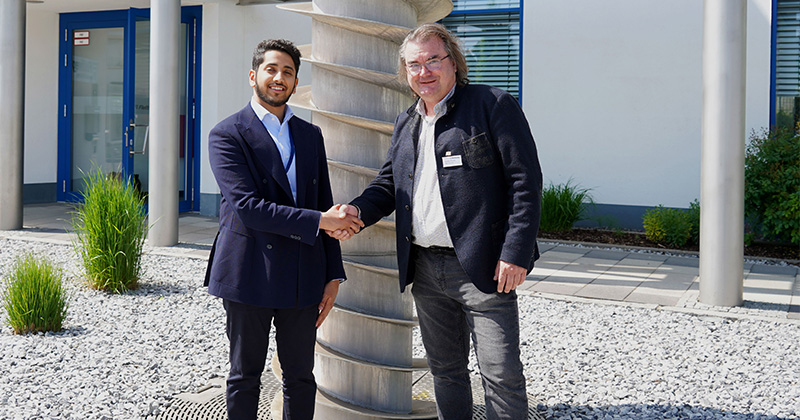 For Estedama, this is already the second project that has been realized with Flottweg. After a first oil sludge plant with a Tricanter® Z4E and a separator AC2006 was purchased, the exchange for the further joint project started last year. Based on initial tests with oil sludge samples and the experience of Estedama Environmental Solution and Flottweg, the complete system was designed. The project was then finalized after a delegation from the Bavarian Ministry of Economic Affairs, Regional Development and Energy visited Saudi Arabia and Bahrain in February.
About Estedama
Estedama is a leading provider of environmental and industrial services for the oil and gas and petrochemical industry. With a steadfast commitment to sustainability and a comprehensive range of services, Estedama is dedicated providing exceptional quality of services to our clients.
Estedama is specialize in delivering the best solutions in industrial waste management, waste recycling, industrial services and environmental consultancy. With years of experience in the field, the team of experts possesses extensive knowledge and expertise in handling the unique challenges faced by the oil and gas and petrochemical sectors.
About Flottweg
Specializing in separation technology, Flottweg is a family business with the goal of always achieving tangible success for the customer. With an annual turnover of over 282 million euros and an export quota of over 80 percent, Flottweg is one of the world's leading manufacturers of centrifuges, equipment, and systems. Flottweg always knows what is important to operators and works daily with this knowledge to find the optimum solution for its customers. With over 60 years of experience, Flottweg stands for highest product quality - Made in Germany.