Lactose and Casein Manufacturing with the Flottweg Decanter
Since the 19th century, centrifuges have played an important role in the dairy industry. Today, mechanical separation technology is used in a variety of dairy processes. When manufacturing lactose and casein, it is important that the valuable solid content that is extracted is as dry as possible.
Manufacturing high-quality pure casein
Of the solid proteins found in cow's milk, 80 percent is casein. Industrial centrifuges are vital to the extraction and manufacturing of casein. Over the course of a multistage process, centrifuges wash out the fats, whey, lactose and minerals found in cow's milk. The result of this process is high-quality, pure casein solids.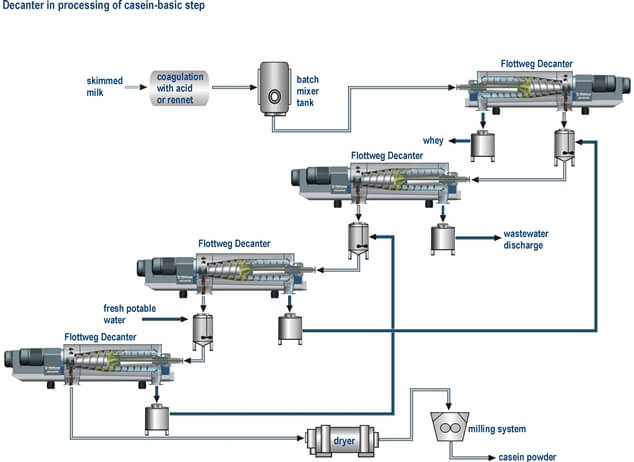 Production of high-purity lactose
Lactose, or "milk sugar," is an important component in manufactured foods and pharmaceuticals. Similar to the production of casein, the extraction and manufacturing of lactose uses centrifuges as part of a series of washing steps. The first washing separates the crystalline lactose from the primary solution. Cold water is added during the second washing to carry away any contaminants including proteins, lactic acid and minerals. A third washing completes the process and obtains the purest end product possible.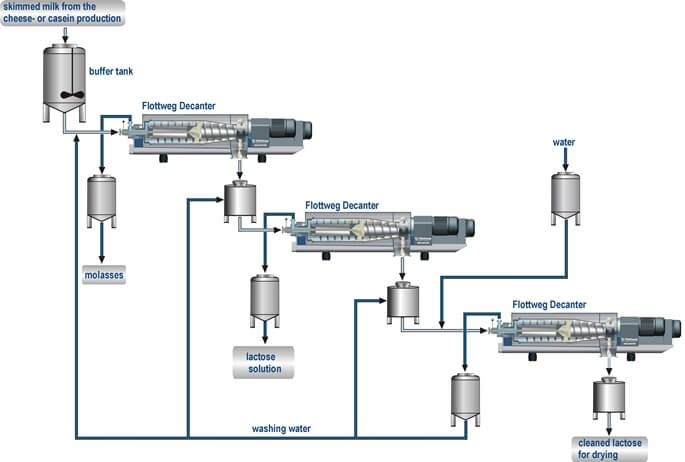 For use in dairies, our decanter centrifuges are specifically adapted to the special needs of manufacturing lactose and casein.
Industrial Centrifuges – the Best Solution for Your Process
Optimum clarification of liquids
Optimal dewatering during the solid phase
Efficient CIP cleaning
High reliability
Readily available

Flottweg Clarifier Separators remove dust from the whey and supplement Flottweg centrifuges used in dairy production.
The special features of Flottweg Decanter centrifuges make the difference
In a closed system, the clarified liquid can be discharged from the bowl using pressure and an adjustable impeller. There are clear advantages to this technology: A flexible balance between maximum DS content and the purest possible centrate. The resulting pressure prevents the liquid from foaming.
Hygienic Design
Housing and rotor designs meet the requirements of a CIP-capable machine. Numerous spray nozzles facilitate easy cleaning of the housing and scroll body. Seals which come into contact with the product are made of FDA-compliant material.
All parts exposed to wear are protected by a special coating, In addition to its protective properties, it is also resistant to the usual CIP fluids.
Efficient Flottweg Oil/Air lubrication provides the bowl bearing with fresh, high-quality lubricating oil. This keeps the bearings cool and lubricated at all times. Since no oil changes are needed, oil consumption is reduced to a minimum.
The Flottweg Simp Drive®
The Flottweg Simp-Drive® regulates the differential speed according to the scroll torque enabling the Flottweg Decanter to automatically adapt to differing load conditions. The result is casein or lactose that is dewatered to the maximum possible total dry solids.
Get the best quality with Flottweg
Want to achieve optimal total dry solids in lactose and casein manufacturing while reducing costs? Ask a Flottweg expert about our industrial centrifuges.