2014-11-13
Progress Through Innovation – Flottweg Honored With an Award
Increasing globalization, demographic changes, and the transition to a sustainable economy are challenging companies with important questions: How can companies master the price pressure on the market? How does one win qualified technicians for a company? How can companies produce more sustainably, with more social responsibility, with more environmental responsibility?
To be ready for these questions and participate actively in global challenges, Flottweg relies on research and development. For their innovative spirit and ongoing efforts to make the familiar even better, the Stifterverband für die Deutsche Wirtschaft has awarded Flottweg the "Innovative through Research" seal.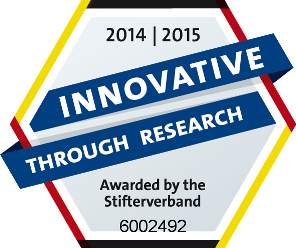 Flottweg recognized the opportunities inherent in internal research and development (R&D) early on. R&D is a fixed part of their technology since 1990. A total of nine employees work exclusively on further development of the core products: decanters, separators, belt presses, and gearboxes. "We are very happy about the award from the Stifterverband für die Deutsche Wirtschaft. It's nice to see that our research work is making a small contribution to keeping jobs in the region and shoring up Germany as a business location," explains Benno Vielhuber, Head of the Research and Development Department.
The "Innovative through Research" seal is awarded to researching companies who take particular responsibility for the country and society. The annual honor is carried out on behalf of the German Federal Ministry of Education and Research. The results of the R&D poll are used in efforts such as the federal-level "Research and Innovation report and are used by the federal government as a basis for decision-making about innovation and technology policy. The data are also used for corresponding reports at the EU and OECD levels.