2016-09-29
At BrauBeviale 2016, Flottweg Presents Separation Technology Solutions from a Single Source
At the BrauBeviale 2016 from November 8 to 10, Flottweg will be presenting its brand-new decanter Z3E. This machine rounds out Flottweg's product line to offer even smaller industrial concerns an attractive centrifuge concept.
Visit us at BrauBeviale 2016: Hall 6, Booth 107!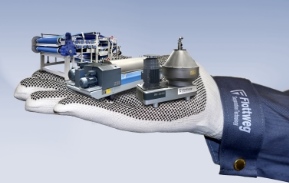 Despite its smaller size, this modular machine boasts all the features and customization options of the company's "big dogs". The <link internal-link>Z3E is flexible, maintenance-friendly and powerful. Together with another special feature — the Super Deep Pond — Flottweg's new Z3E will definitely get your attention at BrauBeviale 2016.
Beer, apple juice, smoothies and wine. Products that are so different in nature naturally require individualized production processes. Thanks to 60 years of experience in the field of solid-liquid separation, Flottweg is uniquely situated to master any challenge:
Decanters for separating off the solids from the pulp or juice
Sedicanters® for <link internal-link>recovery of beer from surplus yeast
Separators for obtaining <link internal-link>tea extract
Belt presses with pomace extraction to increase yield
The advantages are obvious.
Flottweg offers solutions for the entire process. And these solutions can save you real money: waste flows are drained, every drop of juice is removed from the fruit, and beer is recovered from surplus yeast.
Get advice from our separation technology experts in the beverage industry at the BrauBeviale! We're looking forward to your visit!
What: BrauBeviale 2016 in Nuremberg
When: November 8 to 10, 2016
Where: Hall 6, Booth 107