2022-09-13
Studies + Flottweg = Germany Scholarship: Interview with scholarship holder Moritz Huber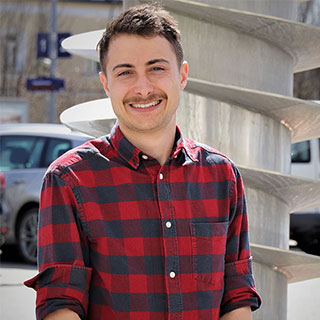 For me, Flottweg is a top partner for successfully completing my master's degree.
Moritz Huber

In 2019 Moritz Huber received the Germany Scholarship for his masters course "Microsystems and Electrical Engineering".
Flottweg has been supporting scholarship recipients through the Germany Scholarship for years. Students are financially supported with 300 euro per month. 150 euro of this is covered by private-sector sponsors, such as companies, foundations or private individuals. A win-win situation for both sides: The students can concentrate on their studies, while the companies cultivate contacts with promising students. In an interview, scholarship holder Moritz Huber explains how he came to be granted the Germany Scholarship and why he now also works at Flottweg:
Can you briefly introduce yourself? Where do you come from? Where do you live? What did you study?
My name is Moritz Huber. I come from the spa town of Bad Griesbach. After graduating from high school in 2014, I first completed an apprenticeship as an electronics technician. Here I gained a lot of practical experience, especially during the commissioning assignments. I think back fondly on my time as an electrical apprentice, as it was there that I developed a certain basic understanding of electrical engineering. After completing my training in 2017, I studied mechatronics at the Deggendorf University of Applied Sciences and then received the Germany Scholarship in 2019. I currently live in Regensburg with three roommates and am studying Microsystems and Electrical Engineering as a master's degree.
How does one get a scholarship?
At the beginning of my studies, my application for parent-independent training assistance was rejected because of my unconventional path of education. Due to the lack of financial support, I looked for alternatives to finance my studies and became aware of the Germany Scholarship in the 3rd semester through a recommendation e-mail from the university. So I applied for it together with my CV and letter of motivation. My advice to anyone considering applying for a scholarship: Apply, it's often easier than you think, even without a grade average of 1.
How much does the scholarship help for your studies?
Primarily, of course, the scholarship was a strong financial support. Since I didn't have an apartment in Deggendorf during my studies, I commuted from Bad Griesbach to the university every day (55 km one way). Thanks to the scholarship, I was able to cover my monthly fuel needs.
For me personally, however, the scholarship was more than "just" money. It also gave me the opportunity to get to know a very committed company. It is a great feeling to already know during your studies that there is a company where you can do your internship or complete your thesis without having to write countless applications beforehand.
How did you end up at Flottweg?
At the FirstContact job fair in Deggendorf, where the scholarship was officially "presented" to me, I came into contact with Flottweg for the first time, represented by Stephanie Moritz. She then invited me to a scholarship day in Vilsbiburg, with a view to visiting the company premises and getting to know the company a little. I liked Flottweg very much and decided to apply for my internship semester at Flottweg. For this practical semester, I moved to Vilsbiburg for six months in 2020. After my internship, I left Flottweg again for a short time to write the remaining exams of my bachelor's degree. In February 2021, I returned to Vilsbiburg to write my bachelor's thesis at Flottweg. I have been a dual master's student since November 2022.
Which department do you work in and what exactly do you do?
I work in the Automation Department under the leadership of Michael Hacker. In the broadest sense, I am the software programmer for the Siemens controls and panels, which are installed in almost all Flottweg control cabinets. For example, I programmed the visualization for the Motice system.
Why do you like Flottweg?
At Flottweg, I like the very modern working environment as well as the friendly and open nature of the employees. Flottweg also gives me flexible working hours and the possibility of working from home during my studies, as well as leave of absence before the examination phases. For me, Flottweg is a top partner for successfully completing my master's degree.
Something else I would like to mention:
After completing my bachelor's thesis at Flottweg, I applied for a position as an astronaut at the European Space Agency ESA. These job postings are only about every 10 years and I thought to myself "If not now, when?".
Part of the application was also a comprehensive medical check (exercise ECG, eye test, hearing test, etc.), which I successfully completed. In the end, however, my application was unfortunately rejected because I did not yet have a master's degree. Flying into space remains a big dream of mine; maybe it will happen in 10 years, then hopefully with my master's degree.