2022-03-01
The Flottweg AC1700 separator – the newest member of the Flottweg family
Separators are used to separate the finest solid particles from liquids. Separators are available from Flottweg for a wide range of applications, from the production of beverages to the production of vegetable oil. Our separators are subject to different requirements depending on the application and size of the respective plant. To be able to offer our customers more options and the optimum solution, we have expanded our separator portfolio with a new machine size: the Flottweg AC1700 separator.
The Flottweg AC1700 separator fits between our popular AC1500 and AC2000 series and completes our product portfolio for the food and beverage industry. With over 70,000 m² / 753,474 ft² of clarification area and an acceleration of 11,000 g, the compact separator ensures an optimally clarified final product with a high throughput.
In addition to the large clarifying area, the AC1700 - as well as all other separators in the Flottweg AC series - is engineered and made in Germany and is characterized by two essential features: the separator is very robust with low-maintenance requirements and remains calm even under extremely high g acceleration.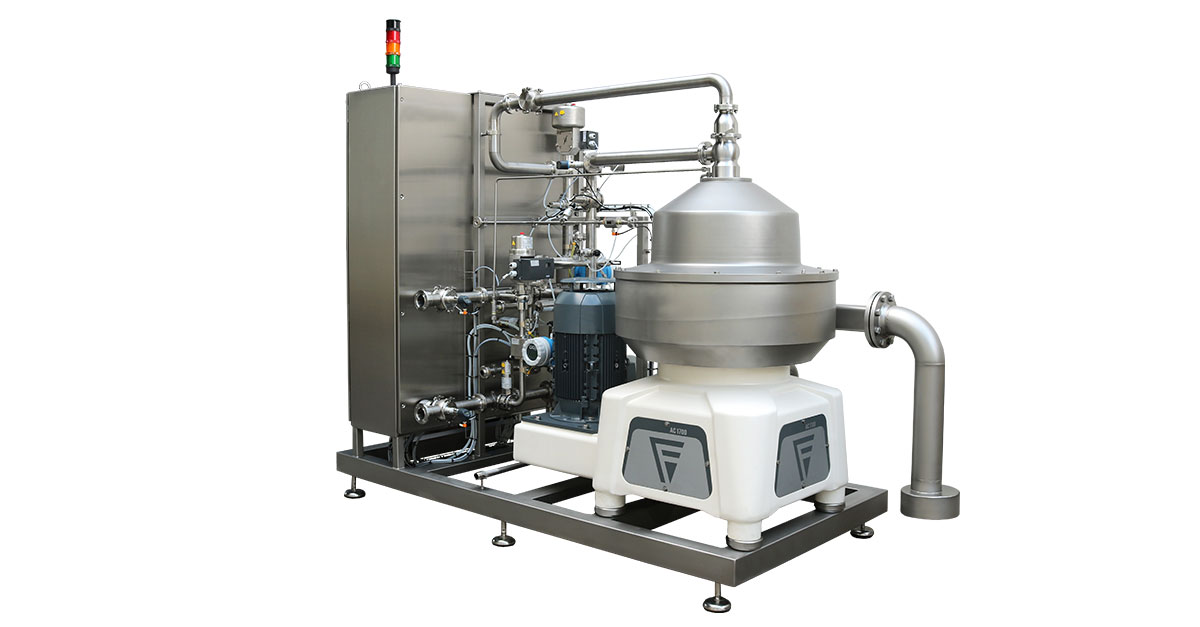 Hygienic design with CIP cleaning
The hygienic requirements that the machines must meet are particularly important for the food and beverage industry. Our separators, including the AC1700, meet high hygienic standards. If desired, the separator can be easily integrated into existing CIP (Cleaning in Place) processes. The hygienic design ensures that even the smallest product residues can be easily removed during cleaning.
Equipped with Soft Shot® emptying system
The AC1700 separator is equipped with Flottweg's own speed-independent Soft Shot® emptying system. The emptying system is used to discharge the separated solids from the drum at full speed. Full and partial emptying can be combined as desired and the emptying quantities and times can be precisely defined.
With the Soft Shot®, a loud emptying bang is a thing of the past. Thanks to the unique design, the emptying is precise and quiet – according to our customers, the quietest emptying they have ever heard.
The key data of the Flottweg AC1700 separator at a glance
Used in beverage and vegetable oil production
Compact, maintenance-friendly design
Soft Shot® emptying system
Equivalent clarification area of up to 70,000 m² / 753,474 ft²
Hydraulic power: 28,000 liters per hour / 7,397 gallons per hour
Hygienic design, CIP capable