2020-02-26
A story of undeniable success
Mining and processing plants inevitably face a huge challenge, one that is principally driven by an accumulation of mine and underspoil waters during production. The discharge of these waters can be problematic, attributable to their high content of suspended solids. This common industry problem has been solved at a Uchalinsky GOK JSC mine with the help of Flottweg centrifuges and decanters.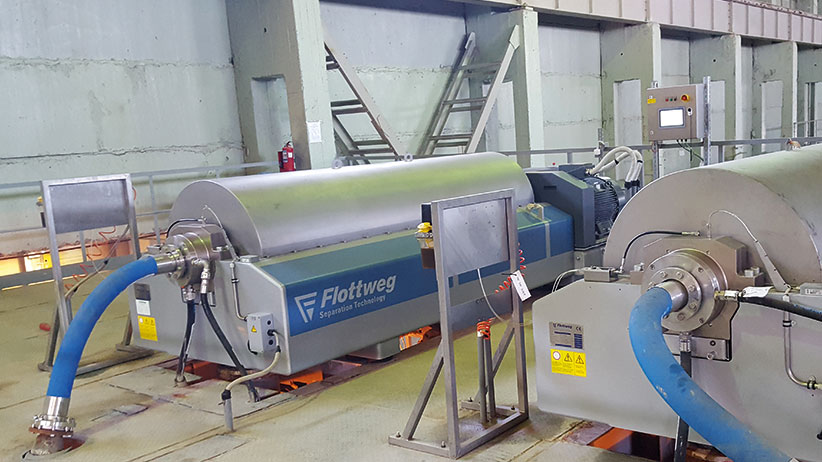 Uchalinsky GOK JSC is located in the Republic of Bashkortostan (Russia). The company processes sulfide copper-zinc ores by open and underground mining methods and produces more than 65% (two-thirds) of Russia's zinc concentrate.
Activities at this plant must be performed in the most environmentally friendly manner possible. The region's ecological situation, notably its rugged terrain and difficult weather conditions, is not always environmentally inviting. In fact, the terrain and weather can be problematically threatening, a reality that ultimately gave rise to the modernization of the Uchalinsky GOK JSC plant and its wastewater-treatment facilities in 2006 at a cost of more than 10 million €(US$11.1 million).
The capital investment was necessary to purchase 16 vertical concrete settlers. During the project's startup phase, Uchalinsky GOK JSC would encounter a number of problems, including:
A low degree of neutralized-water clarification during the removal of metal hydroxide sludge from the sewage and its transfer into the reservoir
Intensive "overgrowing" of gypsum deposits in the treated water and sludge in numerous pipelines, as well as inside the wastewater-treatment plants and outlet manifolds
A low purification rate for sulphates and suspended solids
Against the stiff winds of these challenges, the company eventually decided it would be in their best interest to conduct an active search for the most modern technologies to implement in the wastewater treatment and mining and processing plants. It was an exhaustive search that would last several years. It would also lead to the creation of a partnership between Uchalinsky GOK JSC and Flottweg in 2013.
As part of this partnership, Flottweg would be tasked with solving the problem of sludge disposal after neutralizing mine and underspoil waters in the amount of 1,500–1,800 m3/day, as well as generate additional volumes of operating water. After performing multiple tests, the plant's engineers determined the Flottweg equipment to be the best for the critical operational tasks at hand.
Centrifuges were chosen for the application, which are easy to operate and require minimal technical support compared to other dehydration technologies. These and other benefits ultimately drove the company's decision. Indeed, Uchalinsky GOK JSC chose Flottweg centrifuges because of the undeniable advantages they could deliver vis-à-vis our competitors, notably:
less space required for equipment
closed construction
an increase in the amount of useful product that could be extracted
extended maintenance intervals
minimal downtime
no need for additional consumables or auxiliary components
As part of the project, two Flottweg C7E-4/454 HTS decanters were installed. The results were positive and obvious. Within a short period of time, they would help reduce the amount of recyclable waste and disposal costs by a quarter or an eighth, while simultaneously improving the quality of wastewater, which is laden with heavy metals.
According to Mr. Z.R. Gibaddullin, General Director of Uchalinsky GOK JSC: "Before the launch of the first two decanters, there were some technological problems, which were successfully solved by the Flottweg equipment. As a result, we purchased a third machine and we plan to further embed additional Flottweg equipment in our operations."
Today, two C7E centrifuges are operational, and the installation of a third was recently completed. Taking into account the volume of neutralized mine and underspoil water produced at the mine, the Flottweg equipment processes 50–80 m3/h of sludge, along with 1500 m3/day of recoverable purified water.
O.N. Danilov, Chief Ecologist for Uchalinsky GOK JSC, summarized how plant operations have improved: "The Flottweg equipment successfully handled the task, which gives me the confidence to recommend it to other professionals in our industry who may face similar business challenges."