Our quality policy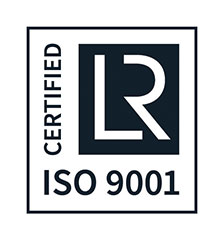 We are firmly convinced that we can assure long-term stability and continuous development of our company only due to high quality products and efficient processes.

Our success is directly connected with our customers' satisfaction and success. Therefore we must recognize and understand our customer's needs at an early stage, as well as we have to analyze systematically the customer's satisfaction.
Our DIN EN ISO 9001:2015 quality management system (certified by Lloyd's Register) regulates all significant processes and methods taking into consideration all legal and regulatory provisions as well as the state of the art. The executive board provides the necessary resources for an active quality management.

Our quality management system is understood as a living documentation of proven, tested and successful methods. That means that we have to develop continuously our processes and products in order to meet steadily growing challenges.

The effectiveness of our quality management system is monitored by target agreements and indicators for each individual process.
To improve the properties of our quality management system and its processes we conduct audits and management reviews on a regular basis.
SEP
SEP
SEP
SEP
SEP
SEP
SEP