Success is…Making quality a priority.
We are firmly convinced that the long-term stability and continuity of our company can only be ensured by the high quality of our products and processes.
The safety of our products and solutions is an essential component of our mechanical engineering philosophy. The application of guidelines and standards allows us to offer our customers maximum quality and safety and deliver optimal performance. This approach is the basis for the development of safe machines and plants when added to our years of experience and excellent engineering practices. All Flottweg products are designed and manufactured exclusively in Germany.
Quality management according to DIN EN ISO 9001:2015
Our DIN EN ISO 9001:2015-compliant quality management system controls all significant procedures, processes, legal and official regulations, and state-of-the-art methods. In regular audits and management reviews, we use metrics to ensure the effectiveness of our QM system and the continuous improvement of our processes.
Health and safety policy according to DIN ISO 45001:2018
A healthy and motivated workforce plays a key role in Flottweg's economic success. The DIN ISO 45001:2018 standard provides a framework to identify, to proactively minimize and to eliminate potential and existing risks within the workplace.
As an internationally active manufacturer of decanters, belt presses, separators and systems for solid-liquid separation, our primary goals are to protect the health of our employees and to ensure a safe working environment. We are committed to eliminating hazards and reducing the risk of accidents, injuries and work-related illness. To continuously improve our occupational health and safety management, we integrate health and safety management into our work processes.
Environmental protection according to DIN EN ISO 14001:2015
Flottweg products play a key role in many environmental technologies and contribute significantly to the sustainable business activities of our customers. In our own production, Flottweg aims for a frugal consumption of resources to present the least possible burden on the environment. This is accompanied by the use of new technological processes and the consistent implementation of and compliance with environmental regulations.
EcoVadis Gold Seal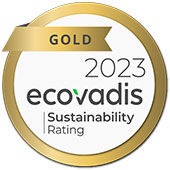 The world's largest and most trusted provider of sustainability ratings has awarded Flottweg with the EcoVadis Gold Seal. Having received 73 out of 100 possible points, Flottweg is among the top one percent of the mechanical engineering industry. The EcoVadis certification focusses on 21 sustainability criteria in four key areas: Environment, Labor & Human Rights, Ethics and Sustainable Procurement.
AEO – Quicker expedition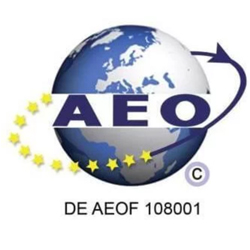 The introduction of the role of "Authorized Economic Operator (AEO)" is a key element of the EU security concept. Flottweg is an Authorized Economic Operator: Our AEO status assures you simplified customs conditions and therefore quicker expedition.