2021-05-31
A journey through time - the Flottweg Separator and its history
Flottweg's separator has been part of the Flottweg product range for over 20 years. In our interview, Frank Giegler, process engineer at Flottweg, and Christoph Hobmeier, development engineer at Flottweg, share the exciting history of Flottweg's separator and discuss how advancements in system technology has helped engineers like you separate solids from liquids more efficiently.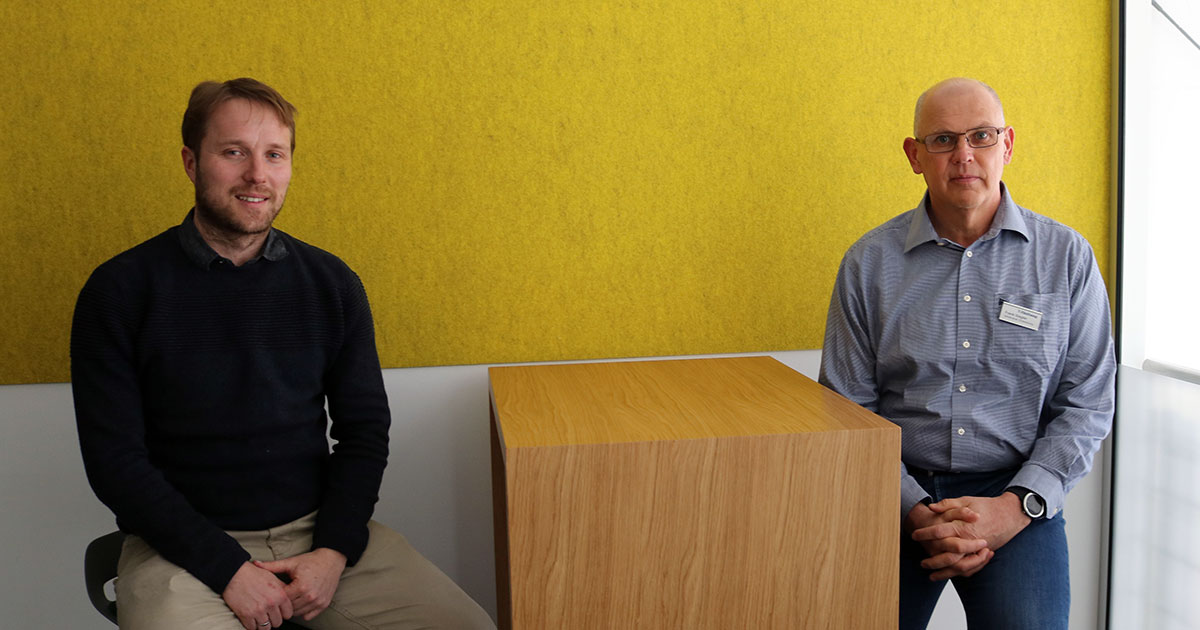 The separator has been part of the Flottweg product range for over 20 years. How did it all begin?
Frank:
The history of separators at Flottweg is a little longer than most people think. In the 1960s/70s, there were initial considerations toward the development of a separator. Toward the end of the 1980s, Flottweg began to collaborate with Veronesi from Bologna, Italy. Veronesi later become a Flottweg subsidiary. Flottweg expanded its product portfolio with the Veronesi separators in order to be able to offer a downstream separation unit after the decanter. Veronesi's manufacturing was not suited for the planned AC2500 (larger capacity machine), so in 1998 the decision was made to relocate production to Vilsbiburg. This is how my story at Flottweg began. The AC2500 was developed to meet the needs of the fruit juice and wine market. After overcoming a few hurdles, a year later the prototype was running in our technical center. The machine was further improved in 1999 and 2000. In 2001 the moment finally arrived: Our current Spokesman of the Board, Mr. Fritz Colesan, sold the first separator built at Flottweg to a winery where it has been in service since September 2001.
What has changed from when you began to the present day?
Christoph:
The product ranges have been significantly expanded. We started with the AC2500. The AC2000 came next. This machine is slightly smaller and suitable for roughly half the throughput. We then developed additional down-sized models - the AC1500 and finally the AC1200. More and more separator varieties are being developed but it all began with a 2-phase clarifier for fruit juice. We've gradually developed different 3-phase separators, even machines with hydrohermetic seals, which are especially useful for beer production. We can now offer a wide range of separators for various needs. For example we have machines with higher corrosion resistance, for higher solids densities or for products with higher viscosity. Versions with electronic components and EX certifications have been developed for use in potentially explosive areas. These are fitted with our inert gas purged systems. These can be can be helpful in not only preventing explosions when processing potentially explosive products but can also prevent oxidation of certain food products. Our portfolio has been steadily expanded since our initial introduction of a large clarifier. Today, we have modular systems that can be adapted to around 70 different machine designs.
In which applications are the different machine designs used?
Frank:
The free overflow on the oil or grease side is mainly used at high temperatures, such as with animal fat or fish oil. The free overflow on the water side is used, for example, for olive oil. We use hydrohermetics mostly with beer, or partly with wine. This depends entirely on the customer's requirements.
We now have our separators in operation in many applications. As already mentioned, the first separator has been in service in a winery for over 20 years. This was followed by separators for processing fruit juice, citrus pectin, coffee, caffeine, tea, soy milk, citrus oil, orange juice, apple pectin, beer, whey, olive oil, fish oil, biodiesel, animal fat, potable alcohol, waste oil, pharmaceuticals, etc., and for algae harvesting.
Christoph:
In principle, it is like this: We currently have four different sizes for different throughput ranges. These are essentially independent of the area of application. The product drives the remaining system considerations for how they will be modified: should I choose a clarifier for 2-phase separation or a separator for 3-phase separation; should I choose a machine with higher corrosion resistance or standard material; should I use a version for higher solids densities? We have adapted the machines so that they can handle a wide variety of products, regardless of solids density or corrosion behavior.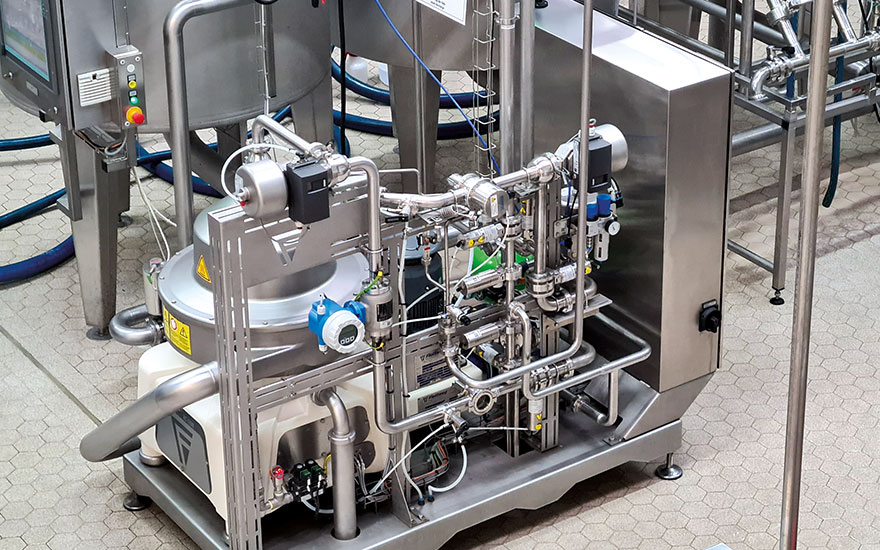 How does a project get started and is there a special "Separator" team at Flottweg for this purpose?
Christoph:
Officially, there is one development team for separators in the development department. However, all our engineers are cross trained and capable of designing these systems. The separator team consists of several development engineers and is one of the four development teams at Flottweg which use a highly interdisciplinary approach. In addition to permanent project members, staff from development, design and process engineering, are heavily involved during the concept phase. Here we determine the characteristics of the material the machine will process and conceptualize the system design . Purchasing, production planning and project planning are also permanent project members in the development projects. In addition, there are temporary project members who are not needed for the entire course of the project, but who nevertheless play an important role. The sales department, for example, is involved at the very beginning and at the end of the project when it comes to external testing of the prototypes. Production and assembly are primarily involved in the project when the prototypes are manufactured or assembled. Good communication is pivotal here. Controlling and documentation are also included in certain phases of a project. The documentation department tends to be brought in at the end of the project to create proper instruction and manuals so that the product can be field tested and properly maintained. A new project ultimately involves almost the entire company, considering all staff called on during the course of the project. Further, project development may take as long as 1-2 years, or even three years if completely new.
How does a separator procurement process work?
Christoph:
Neither development nor process engineering is involved in normal series production machines. If the application is already proven, the sales department can independently sell them.
When a separator is ordered, the sales department collaborates with the design department to specify the machine and then hands the project off to order logistics. This creates a production order for assembly, which is used to build and approve the machine. The machine is then either delivered to the customer or goes on to our plant engineering to be completed with a skid, control cabinet, etc.
How often do unique application inquiries occur?
Frank:
Unique needs or specifications are quite common, especially in the chemical and pharmaceutical sectors. Often special requirements must be met, such as higher resistance, higher density or standards for product quality or separation. We are here to help with any of these.
Christoph:
Feasibility tests are at the core of our recommendations. Sales may find that they have a customer request that they can't service with one of the 70 system designs we currently have available. Sales will then submit a feasibility request to the Technology department. Process engineering and development estimate how much effort is required to meet this customer requirement. Then a decision is made whether to approve this effort and provide the customer with a commitment.
What have been the most exciting or extraordinary projects so far?
Frank:
One really exciting test project was at a brewery in Munich. It was quite difficult to physically get the machine in place. We all hoped that we would never have to bring the machine out of the depths of the cellar, because this would have been even more difficult than bringing it in. We first tested all their common beer recipes with the separator. Processed beer was bottled, both with and without the separator use. This was then sampled for a three months to determine if there was a change in taste. Only after it was established that there was no change in taste, was the separator allowed to run again. Then it took another three months until the machine was sold, which was when we were finally able to raise a glass and toast it at the local beer festival.
We had the same situation with an apple pectin manufacturer. When I visited them for the first time, there were only separators from a the competition. Since then, the customer has replaced almost all separation units with Flottweg machines.
Christoph:
For me, the most exciting development project was the AC1200, because we had the freedom to go imagine new or different approaches in many areas. That machine was re-engineered from front to back, with new design and construction of the separator. This was also the first time that an interdisciplinary approach was followed closely. That was a very good learning project, especially for me.
The Flottweg separator is still considered a newcomer in some areas. Why do you think that is?
Christoph:
In general, we have many machine designs available and have separators effectively operating in many industries and applications. However, other companies have been around longer than 20 years so we are still the newcomer in some areas.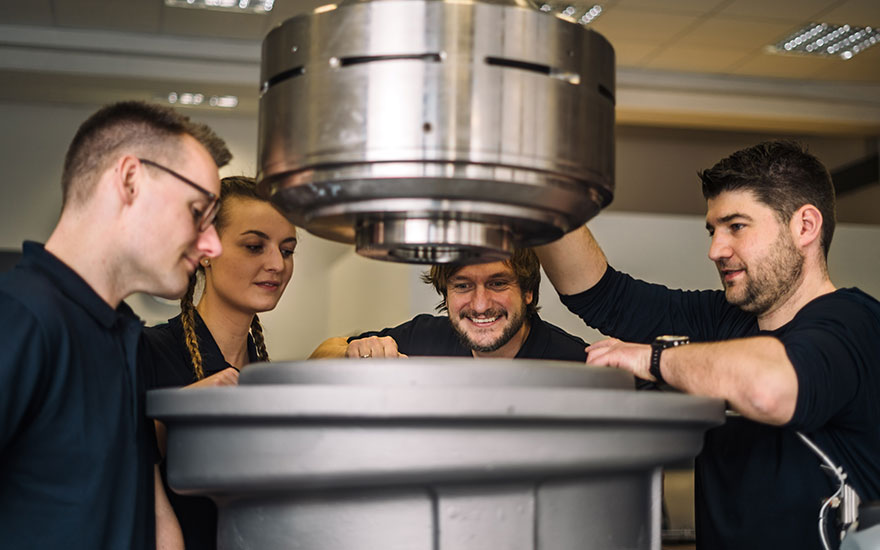 What distinguishes the Flottweg Separator? What are our advantages over the competition?
Frank:
First, our separators are extremely robust in their processing. They are also very good at handling process fluctuations. As mentioned earlier, the customer who produced pectin previously had separators from our competitors. This customer asked his maintenance people for their opinion and they were clearly in favor of our separator. They said that we are much easier, cheaper and faster to maintain. And his machine operators said that our machine copes better with fluctuations or disruptions in the upstream process than other models.
Christoph:
Our machine is very robust and very easy to maintain. Two skilled people can quickly disassemble the separator into its main components to a degree where it is possible to see where there might be a problem or to start replacing service parts. We move quite quickly in this respect. For many customers, being able to carry out maintenance work quickly and easily and having the machine up and running in a short time is a concern.
Additionally, our Flottweg separators are characterized by their discharge system. In addition to its simple design and ease of maintenance, the system also offers the advantage of SoftShot®, which greatly reduces discharge noise. The mechanics behind it are much simpler than many of our competitors' machines, but it still offers the possibility to trigger both partial and complete emptying.
What can we expect in the future?
Christoph:
We currently have many interesting development projects. One project is the AC1500, the redesign for which will incorporate some of the design of the AC1200, with a change in some components and assemblies. We are also close to completing the development of a new intermediate size. This is the AC1700, which in terms of machine size is between the AC1500 and the AC2000. With this new machine size, we can respond more specifically to a customers' throughput requirements.
The development of a nozzle separator is another very promising project. This is a new separation unit for Flottweg. When we talked about separators to date, we have been talking about self-cleaning separators that have a hydraulic opening mechanism. The nozzle separator has a large number of nozzles installed on the drum circumference through which the solids are discharged. Various tests are currently being carried out on prototypes in the field. The first tests were very successful, which is why the first machines have already been sold. In addition, we are still in the process of completing the modular product system. We are planning a new version of the AC1500 to be able to process higher densities of solids, and we are also in the process of establishing the AC2500 and AC1200exp (inertized). So we have a slew of interesting development projects.
Frank:
There are also ongoing minor developments and improvements, such as the reduction of energy consumption of our machines or small adaptions that come in via feasibility inquiries.
Christoph:
Essentially, you could say: We are rounding off our product portfolio and expanding it to include new sizes, and with the nozzle separator we are even breaking new ground.
About our experts
Christoph Hobmeier
Joined Flottweg in 2015
Development Engineer in the MDS (Machine Development Separator) Team
Frank Giegler
Joined Flottweg in 1998
Began in testing and now works in process engineering development