2020-04-30
Major project - a further wheat starch plant for Agrana Stärke GmbH
In November 2019, Agrana Stärke GmbH, a subsidiary of Agrana Beteiligungs-AG, opened its second wheat starch factory equipped with Flottweg technology at the Pischelsdorf site in Austria. Flottweg also supplied just about the entire mechanical separation technology for the wet process section of the new wheat starch plant, together with the corresponding plant peripherals.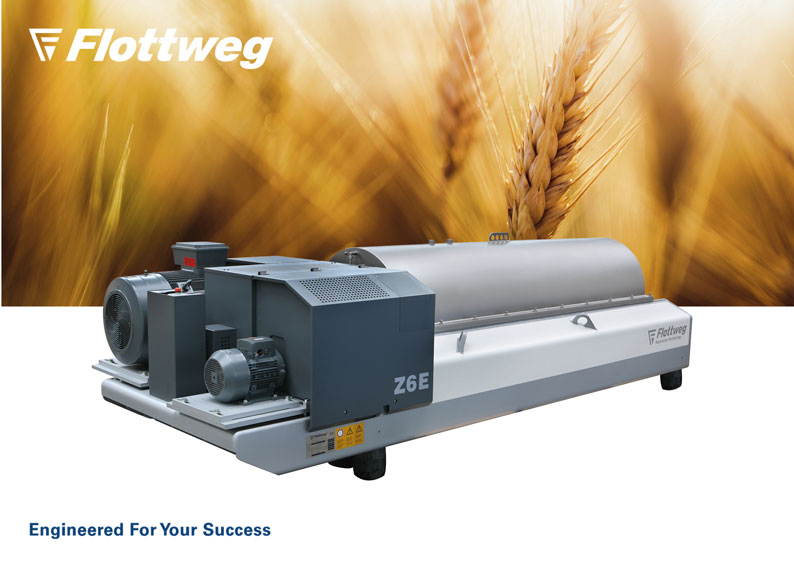 Agrana Beteiligungs-AG is a major food and industrial goods concern that specializes in three business sectors: fruit, starch and sugar. With 57 locations and 9,500 employees worldwide, Agrana is not only well known in its home country Austria, but also internationally. For the production of their products they rely on natural resources and attach great importance to sustainability.
We are proud to work with Agrana, not least because of their commitment to the environment. Our business partnership began as early as 2012 with the construction of the very first wheat starch plant at the Pischelsdorf location. With an annual processing capacity of approximately 400,000 tons of wheat, the new plant is one of the largest Wheat Starch plants ever built by Flottweg.
The heart of the plant, the so-called wet process, was designed by Flottweg to include the complete process engineering separation technology and the corresponding equipment. Two Z8E Tricanter® and six Z6E Dekanter are the central components that are employed to attain the product-specific quality levels. In addition to producing the process engineering design, Flottweg specified and supplied all necessary machines and systems together with the complete plant engineering, installation supervision and commissioning.
The final acceptance of the new wheat starch plant was given on schedule at the end of 2019.