2023-07-05
Flottweg Opens New Subsidiary in Thailand
In June, separation technology specialist Flottweg opened a new subsidiary in Thailand. Having been active in Thailand for more than 30 years, Flottweg is now strengthening its presence in the region of Asia by expanding to Thailand. The opening of the subsidiary in Thailand is an additional step in the company's global strategy for 2025. Thus, the growth strategy, initially implemented in 2020, puts the ongoing internationalization of Flottweg in focus.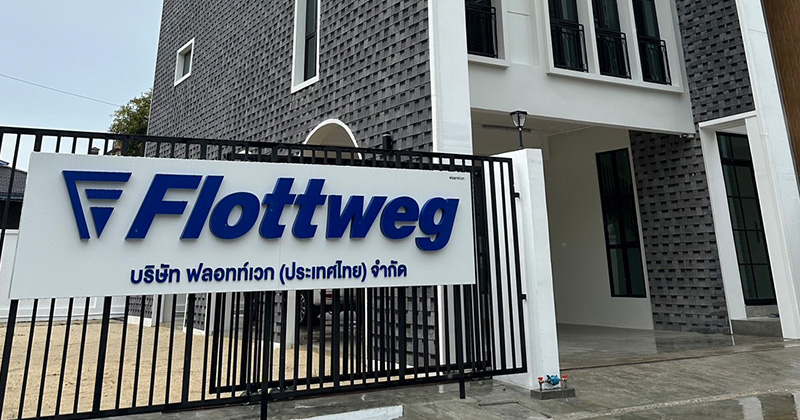 New subsidiary as milestone of Strategy 2025
Dr. Kersten Link, the Spokesperson of the Execustive Board, is delighted: "The opening of our subsidiary in Thailand is an important milestone for Flottweg. As a result, we are now in a position to offer our innovative separation solutions in new machine business, as well as our service support from our own source, and to respond even more vigorously to the needs of our local customers. We are confident that we will be able to expand our market presence with our new subsidiary, and thus take additional important steps in the context of our global strategy for 2025."
The Flottweg team in Bangkok currently is comprised of eight employees and is responsible for new machine business, sales of spare parts, field service at the customer's premises, testing of equipment, as well as on-site repairs. In this region, Flottweg's machines are already in use in numerous applications; for example, in the sectors of food, biotechnology, and animal proteins. With the new subsidiary, the Flottweg Group now has a total of 12 subsidiaries in Europe, Asia, America, and Australia, as well as over 50 sales offices worldwide.
Address of Flottweg Thailand:
39, Soi Ramkhamhaeng 44 Yaek 1,
Hua Mak Sub-District, Bangkapi District, Bangkok Province,
10240 Thailand