2022-08-22
Interview with Robert Klug – separation technology expert for the mining sector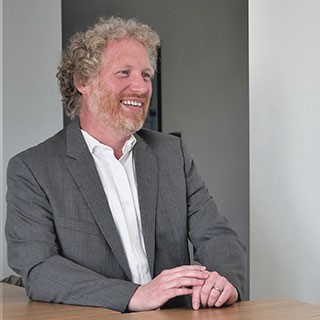 The most important aspect here is direct reuse of the process water.
Robert Klug

Robert Klug is a mechanical engineering graduate and has been working at Flottweg for twelve years. Over the past five years, he has increasingly focused on establishing decanter centrifuges in the mining sector.
Flottweg's separation solutions can be used very successfully in mining. In an interview, expert Robert Klug explains how decanter centrifuges can be used there and what advantages the use of separation technology brings.
What do you think are the key challenges for gravel works now and in the next few years?
The main challenge in the coming years will be to reach consensus from a business and environmental point of view. The most important aspect here is direct reuse of the process water. Other challenges will be to minimize operating costs, promote sustainability, and protect and recycle the raw materials.
But the reduction of environmental impacts and the implementation of new, stricter environmental laws and guidelines are also playing an increasingly important role.
Can you briefly describe how the wash water recycling process is currently operated? What systems can be used for this?
Many gravel and sand plants do not yet have mechanical dewatering technology that efficiently recovers the used process water. At present, to separate the solids from the water tailings ponds are frequently used. Separation takes place using static sedimentation, which takes an enormous amount of time.
The most widely used dewatering technology in this area to date are chamber filter presses. Chamber filter presses permit a very dry solids discharge, but there are a few factors to consider from the economic point of view, such as intermittent operation, high personnel costs, rinsing of filter cloths, changing the filter media as well as the enormous weight and space requirements of these systems.
In addition to the filter presses, various types of thickeners have also become established. Simple thickeners reduce the solids to approx. 35-45% DS (dry solids) purely by the acceleration due to gravity (1 g). Super-deep cone thickeners make use of the static pressure of the increasingly compact solid in addition to gravity acceleration. According to the manufacturer, up to 65% DS can be reached here. The drawbacks of this technology are the gigantic installation sizes and the enormous loads exerted on the floor by the machines. This means the foundation must be sufficiently strengthened and dimensioned. In addition, many companies have only one thickener. In the event of maintenance or repair, the entire operation must then be shut down for several weeks.
What are the advantages of a decanter centrifuge for the recovery of sand and gravel wash water?
Centrifuges quickly and efficiently separate the solid from the liquid. Centrifuges work with 500 to 1,000 times gravity (500 – 1,000 g) compared to static separation with normal gravitational acceleration (1 g). Thanks to the compact design of centrifuges, it is usually possible to carry out the wash water processing directly on site. No need to transport the wash water.
Why do plant operators still rely on other systems despite these advantages?
Many operators are unsure of the benefits, as they are not aware or are incorrectly informed about what modern centrifuges can do today. Much has happened in the last five years, especially with regard to wear protection, solids transport and operational safety.
Can this solution be used for any kind of gravel works or are there special factors to consider?
The preferred gravel plants for this application have a daily production volume of up to 10,000 t of solids/day. In particular, centrifuge technology makes direct reuse of the wash water possible, which represents an economical and ecological advantage in complying with statutory regulations.
Are there any "best practice" examples?
By using centrifuge technology, a Nuremberg customer has been able to reduce the fresh water consumption from groundwater to such an extent that the official requirements are met. This makes it possible to continue operating the sand pit.
Several customers are subject to strict regulations for discharging dirty wash water into tailings ponds. These are no longer to be used in future and will even be partially renaturized. Centrifuge technology makes it possible to operate a self-contained circulation system.
And finally: In your opinion, what makes Flottweg's decanter centrifuge so special?
In recent years Flottweg has carried out some very interesting projects, from which we have learned a lot, which means we have been able to continuously optimize our systems.
Thanks to Flottweg's "Made in Germany" policy and more than 65 years of experience in centrifuge construction, we are ideally prepared for the challenges in the mining sector.