2020-09-10
12 Xelletor decanter centrifuges for Wien Energie
Wien Energie is one of the largest regional energy suppliers in Austria. Flottweg will supply 12 Xelletor decanter centrifuges to Wien Energie for dewatering the sewage sludge from the adjacent main sewage treatment plant. Flottweg beat out two other competitors in the qualification process.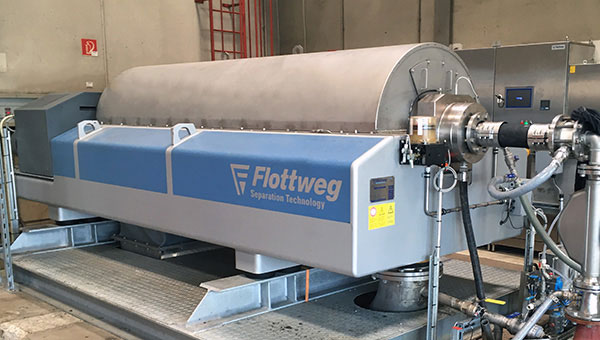 Wien Energie supplies 2 million customers and 230,000 commercial and industrial facilities with electricity, heating and cooling. In order to advance climate protection, the company will be massively investing in the expansion of renewable energies such as solar, wind and hydro power, as well as electric mobility over the coming years. Here Wien Energie is focusing on implementing new technologies, innovations and higher energy efficiency in all areas.
The energy efficiency of the Flottweg X7E decanter centrifuges was one of the reasons for awarding this major project to Flottweg. In addition to the power consumption and the dry solids value, the low polymer requirement also played an important role in this decision.
The project was kicked off in April of 2018. For the test phase, one rental centrifuge was installed by a total of three competitors. The invitation to bid followed in October of 2019 and the qualification process took place in January of 2020. After completing the qualification process, the costs for investment and operation were compared to determine the best bidder for this construction project. Flottweg was able to come out ahead against two competitors. In February of 2020, Flottweg was awarded the contract. Flottweg will supply 11 more X7E decanter centrifuges, in addition to the rental centrifuge already in operation. In addition to the delivery of the dewatering centrifuges, Flottweg will also provide the piping link-up and installation of the centrifuges, as well as the pipe and electrical integration and connections.
The X7E decanter centrifuges feature the innovative Xelletor system, which was introduced by Flottweg in 2019. Compared to conventional decanters, the Xelletor machines require significantly less polymer and energy, while at the same time having a higher dry solids content.
The new sewage sludge dewatering plant is fully in line with the innovative, forward-looking orientation of Wien Energie.