Reduction In Wort Losses By Means Of Decanters
Hygienic design - all parts that come into contact with the product are produced using corrosion and acid-resistant stainless steels
Simple to use, continuous operation and low maintenance requirements
Low space requirement, simple installation and on-site specialist service
The Flottweg Simp-Drive® optimally adapts the machine to the existing conditions, even in case of fluctuating feed amounts, and thus ensures high wort yields at all times
Throughflow rate of the decanters: Z4E up to 100 hl/h, Z5E up to 160 hl/h, Z6E up to 220 hl/h
Flottweg is ISO 9001-certified: The latest technical standard means that our centrifuges are powerful, reliable and efficient:
The Right Decanter For Your Brewing Process:
Individual solutions for each brewing process with simple integration into existing systems
On-site support by trained specialists and inexpensive, global aftersales service
Patented, highly efficient Simp-Drive® for adapting to fluctuating feed amounts
Traditional, highly experienced company with specialised technical knowledge
Find the best solution together with your SME partner! Reduce your wort losses by means of a Flottweg decanter, and thus reduce your manufacturing costs. Benefit from the advantages offered by a German manufacturer of cutting-edge technology:
Flottweg Separation Technology In The Brewery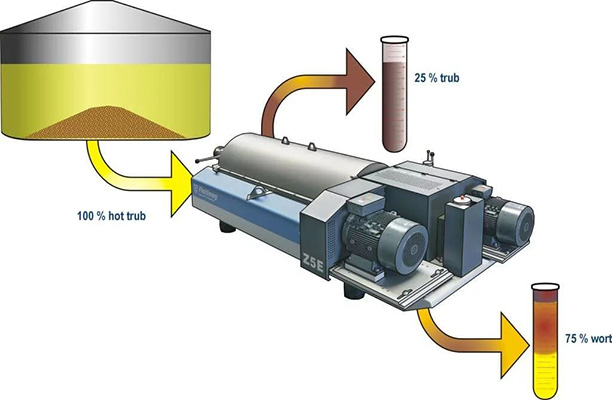 Significant reduction in wort losses due to high dry matter content in the separated hot trub
Optimum operating costs and an improved brewing process due to continuous, automated operation
Reduced manufacturing costs per hectolitre of beer
Return of the recovered wort to the ongoing brewing process
Advantages Of The Flottweg Decanter For Wort Recovery At A Glance:
The hot trub separated out during wort treatment in the whirlpool still contains up to 75% liquid wort. As a result, wort recovery from hot trub is a very effective method of minimising your wort losses, and thus saving manufacturing costs.

The Flottweg decanter can be used for supplementing trub separation from the hot wort. It can process a high settleable solid content without difficulty. The separated hot trub is optimally concentrated. The recovered hot wort can be directly added to the treated hot wort flow after the whirlpool. Wort recovery from hot trub thus sustainably minimises wort losses, and optimises the entire brewing process.
Similar fields of application

Are you interested in Flottweg centrifuges for the production of beer? Would you like to know more?